A Paniolo Way of Life
Molokai rodeo at a glimpse
On any given day at the Kaunakakai arena, Chelsea Sakamoto is saddled up on a horse with rope in hand, heart pumping, and a gaze fixed on an all-too unpredictable steer.
As the steer is released from an adjacent chute, Sakamoto, 17, begins a quick and bold pursuit of the calf – lassoing its neck and fastening the rope to her saddle before she suddenly stops her horse. An immediate jerk of the rope brings the calf to the ground.
On this particular day, her coaches, Don Habon and Porky Dudoit, along with other spectators straddling the rail, bellow with excitement.
"Once you're out there, the butterflies just go away," Sakamoto said.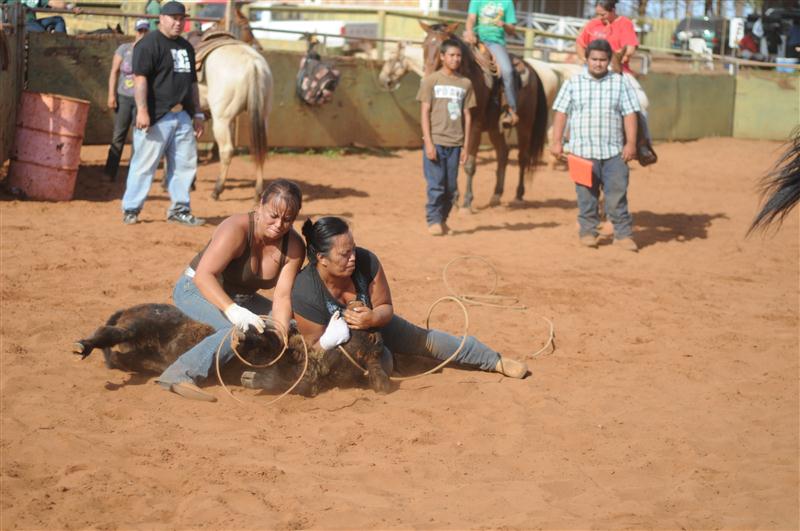 Since the age of 5, Sakamoto has spent much of her time on horseback, learning how to ride, tend to cattle and rope. Her dedication to the sport of rodeo has landed her spots in state and national level competitions since the sixth grade.
This year, Sakamoto is gearing up for her last high school rodeo series and has nothing but high expectations.
"I'm hoping to get No. 1 in state for goat tying," she said. "It's my best event and so addicting."
A Unique Tradition
Getting to the top – and staying there – is not easy in the world of rodeo. It often takes years of practice and an exhausting discipline.
But before rodeo is learned as a sport, it is first taken in as a lifestyle.
"It's not just about riding," said Zhantell Dudoit, whose noteworthy rodeo experience dates back more than 30 years. "You learn about ranching, how to tend to cattle, and take care of the land."
On Molokai, rodeo starts with family and the paniolo, or cowboy, heritage. Like hula and music, it is another way locals perpetuate Hawaiian culture.

"The whole purpose is to give strength to family ties," she added. "Paniolo ranching is a big deal in Hawaiian culture. It's a way of life here."
Dudoit's exposure to rodeo and ranching began when she was a child, watching and learning from a line of family members including her father, "big time cowboy" Clifford Dudoit.
Zhantell remembers when her brother, then seven, begged their father to put him on a horse. Clifford told the boy he had to rope a dummy 100 times in a row, before he could start riding.
After many months of practicing, Zhantell's brother finally mastered the lasso and began to ride. By the age of 10, he was one of the best ropers in the state.
"He now competes at the national level in Nevada," Zhantell added.

One Big Ohana
Clifford's leadership extended beyond the boundaries of his own family's rodeo pursuit.
In the early 1980s, Clifford, along with Vandale "Puggy" Dudoit and former Councilman Patrick Kawano, launched the Molokai Roping Club, later renamed the Molokai Junior Roping Club to include younger aspiring paniolo.
To this day, the club has trained hundreds of keiki, supplying them with rope and horse, and teaching them leadership, discipline and fundamental skills.
"We teach work ethic and how to respect and take care of everything," Clifford said. "The No.1 priority is their attitude. You have to work hard to gain anything.
"We can't give rewards just for participating. They have to earn it."
A Wild Ride
The most telling marker of a sport's future is the talent of its competitors. And on Molokai, there is no question that rodeo has yielded some of the island's most adept athletes.
"The kids on Molokai, they're great athletes," Clifford said. "All they need is someone to point the way."
The club has produced several rodeo contenders who have progressed to county and state finals, as well as nationals. The talent on Molokai, says Clifford, is just "natural."
Today, many of these athletes can be seen competing in the weekend rodeo series hosted by the Kamakana `ohana at Molokai Ranch or in this weekend's Molokai Stampede at Kapualei Ranch.
During last weekend's rodeo in Maunaloa, riders tested their speed, agility and finesse of the rope in the team roping events. They also demonstrated their technique by navigating a horse through a weaving course of plastic tubs in the barrel races.
Other events found participants trying to remove a ribbon attached to a calf's back during steer undecorating events, and displaying sheer grit while tackling a calf to the ground in the mugging events.
"This sport is all about unpredictability," Zhantell said. "You never know what kind of steer you're going to get."
And just like a steer, life, too, can be unpredictable.
"My dad and Uncle Puggy would say once you get into the chute, it's all about the luck of the draw. And in life, it's about making the best of a bad draw. If you dwell on what junk your draw is, then you forget the fundamental lessons learned and you forget to use what you have."