Paddling the Pailolo
Last Saturday afternoon, the Canoe Shack at the Kaunakakai Wharf was filled to the brim of paddlers from every Hawaiian island – and a few from abroad. The fourth annual Pailolo Challenge boasted their largest turnout yet – 48 crews – for the 26-mile race from Maui to Molokai.
Paula Kakaio, who paddled for Wa`akapaemua Canoe Club – Masters 40 Women division, said this is always a good race.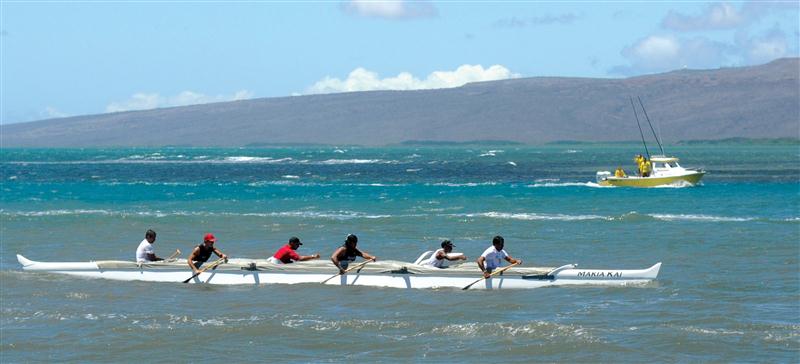 "It always nice racing home, especially once we hit the Kamalo buoy," she said.
The other Molokai team to compete, Kukui o Molokai (pictured above), came in fifth in their division, Open Men. First time Pailolo paddler Kevin Dudoit said although it's the longest race he's done so far, he would do this one again.
The top three teams this year were Oahu-based crews: Team Kamanu (Open Class Iron Men division) came in first overall with a time of 2:41.51, followed by Outrigger Livestrong I (Open Men) at 2:45.30 and Outrigger Livestrong II (Open Men) at 2:49.14. Representing Molokai, Kukui o Molokai (Open Men) came in ninth overall, but fifth in their division, at 3:08.42; Wa`akapaemua Canoe Club (Master 40 Women) came in 39th overall but fourth in their division with a time of 3:49.16.