Paddles Down, Bottoms Up
How many places can you see a canoe of Cruella de Vils paddling behind a boat of unabashed Beer Hunters?
Probably only on Molokai during the Master Blasters canoe race from Kakahai`a to the Kaunakakai Wharf, which took place for the 26th time last Saturday. The annual event raises funds for the Molokai Canoe Club.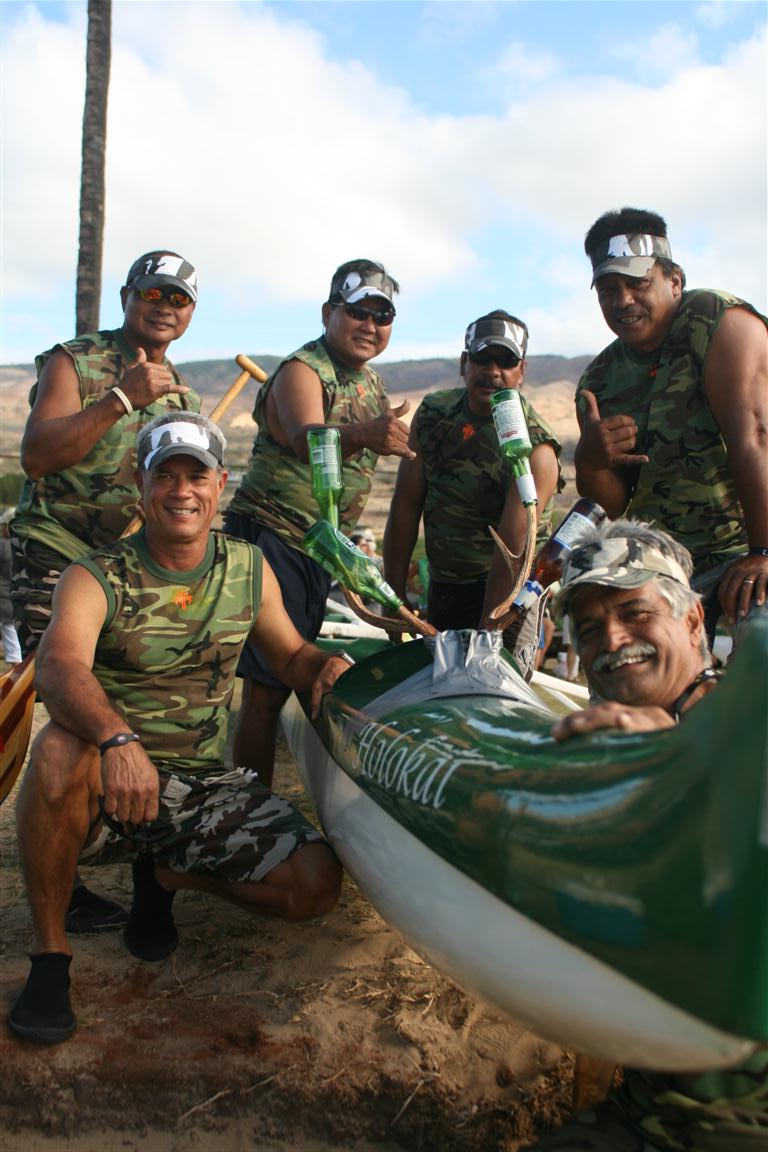 Twenty-two teams from around the state made four pit stops en route to the finish line, with each of their six crew members required to drink a full beer before getting back into the water. On top of a kick-off beer at the starting line, that meant drinking five beers while competitively paddling more than six miles in well under two hours.
The teams accomplished their feat dressed in costumes ranging from 1920s flappers to Italian gondoliers.
Molokai was represented by top three finishes from the Beer Hunters and Aloha Etes, who each placed second among master's men and women, respectively.
Another Molokai women's team's Cruella de Vil get-ups – complete with keiki dressed as spotted Dalmatians – took second place in the costume contest.
"It was a good race – it was so competitive this year. … It's not only the drinking, it's about paddling, too. Gotta be both," said Ike Sanchez, whose Beer Hunter team paddled with a rack of antlers attached to their canoe.
Penny Martin of the Aloha Etes – who donned pink wigs and Hawaiian wear – agreed that the race is "always a competition." She and Beer Hunter Ed Misaki said they've made many friends from Maui and Oahu who they know only through the annual race.
"It's a venue where we can laugh together after a long hard season and enjoy each other's friendship," Martin said before the crews got ready to party and celebrate at the wharf's canoe shack.
"You see the brotherhood out there," added Misaki. "All these guys, we have this common experience."
MASTERS BLASTERS RESULTS
26th Annual Race, Saturday, Oct. 29
From Kakahai`a to the Kaunakakai Wharf
11 men's teams, 11 women's teams
RACE
Masters Men (ages 40+; total age in boat 300+ years)
1. North Shore Renegades (Maui)
2. Beer Hunters (Molokai)
Super Masters Men (ages 45+; total age in boat 330+ years)
1. Poi Dog (Oahu)
2. Kihei (Maui)
Masters Women (ages 35+; total age in boat 250+ years)
1. Sovern Soldiers (Oahu)
2. Aloha Etes (Molokai)
COSTUMES
Men – Kihei (Maui)
Women – Cruella de Vils (Molokai)
HARD LUCK
Men – Chippendales 30 Years Later (Oahu)
Women – North Shore Renegades (Maui)