Paddlers Reopens to Customers' Delight
After being closed nearly a month, Paddlers Inn Restaurant and Bar reopened last week under new management – minus the bar, for now.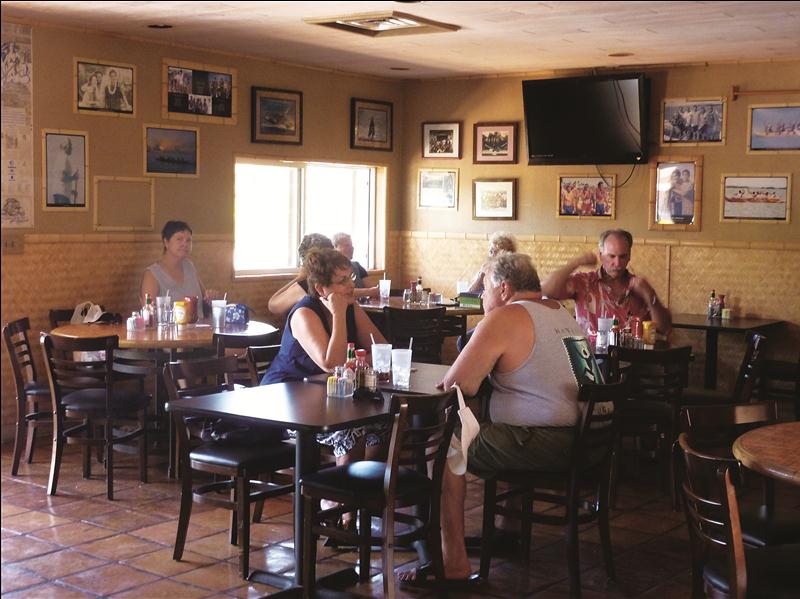 Paddlers' liquor license application is still being processed, according to staff. In the meantime, the restaurant is open for breakfast, lunch and dinner. Paddlers had been closed since May 28 when Louis Santiago bought it.
Business got off to a slow start on Wednesday but has been building steadily, according to staff. "We expected that as word gets out," said dinning room manager Curtis Akiona.
Customers for lunch last Friday said they were glad the restaurant was open again, both for another dinning option on Molokai and for Paddlers' staff to be reemployed. "This is all about the jobs coming back," Cheryl Corbiel said between bites.
Others said they were confident that, with Santiago's experience, Paddlers will be in good hands. Santiago owns restaurants and bars on Oahu, Kauai and the Big Island.
"It gives us confidence that it'll stay open and he'll have a go at it," one customer said.
The day before it reopened, Santiago hosted a tasting lunch for invited members of the community, and friends and family of staff, where he introduced himself and thanked those who had helped him during the transition process.
For the buffet-style lunch, diners sampled pupus and main dishes and were asked to give their mana`o. Santiago said the lunch was meant to help improve Paddlers' food and service.
On the pupu menu, old favorites like garlic fries are joined by new additions — mozzarella sticks, egg rolls and potato skins, which Akiona said have been a big seller in the first few days of business.
On the main menu, lunch plates – succulent teriyaki pork, chicken and beef and kalua style roast pork – are now joined by new combo plates. Try Da Big Kahuna with chicken cutlet, teriyaki beef and panko mahi.
Finally, the new dessert menu will tempt customers with cheesecakes, chocolate macadamia nut pie, fried ice cream and root beer float, along with daily specials.
Last week's opening began with a blessing by Kahu Anna Lou Arakaki, which started in the parking lot and slowly moving from room to room. Arakaki also blessed Paddlers' employees and Santiago, telling them to expect the best of each other while working together.
"I sure wish this whole place well – this community needs all the business it can get," Arakaki said.
Paddlers is now open seven days a week. Breakfast is served 7-11 a.m., lunch 11-2:30 p.m. and dinner 5:30-9 p.m. The restaurant is closed between meals.