Paddlers Raise Thousands
Community Contributed by Clare Seeger Mawae
After a couple-year hiatus, the Molokai Challenge was brought back to life on Aug. 13 by two young Molokai SUP paddlers, 11-year-old Josie and 9-year-old Alex Mawae. Sixteen-year-olds Shauden Pedro and Kaela Pereira joined the event and all of them did so well despite challenging conditions of the crossing. In effort to raise money for charities of their choice, Youth in Motion relay teams crossed the Pailolo Channel from Maui to Molokai. They then continued their journey independently from Kamalo to Malama Park where six-man canoes joined in and paddled the last leg with them.
The purpose of this event is to inspire youth in following their dreams and realizing that no matter what challenges may be presented, opportunities do exist. The crossing from Maui is a chance for adults to give back to the next generation and a chance for youth under the adult chaperones to go out and accomplish challenges while inspiring other youth that they can do the same. At this year's Molokai Challenge, participating keiki athletes raised well over $2000 in pledges to donate to their chosen charities.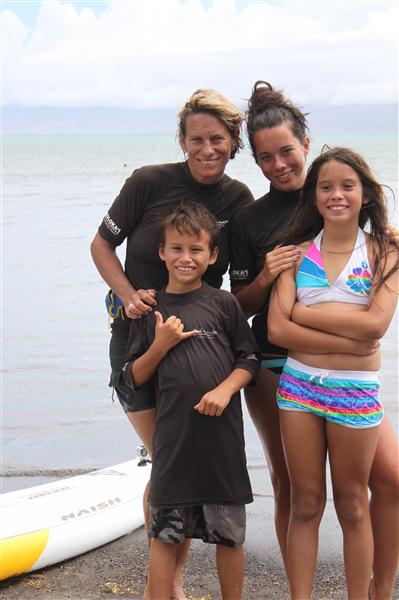 Last Saturday on Maui, the three stand-up paddle teams gathered at D.T. Flemmings Beach Park, while participating kite boarders prepared themselves at an adjacent beach. The winds were perfect to start paddling to Molokai, since a southwest swell was running and causing turbulence with a strong current in a northeast direction making tactical decisions important. Out past mid-channel, the winds picked up and the swells and wind were lined in a perfect direction to make it over to Kamalo.
As Molokai was approaching with three miles to the destination, the Molokai Challenge lived up to its name, with shifts in wind and swells. The last three miles took almost 1.5 hours to complete because of the challenging factors, making crossing the channel seem quite easy. Four hours and 25 minutes later Josie Mawae touched shore with a huge smile on her face. Team Pa`a Hana with Shauden Pedro continued past Kamalo due to the shifting wind and then pulled out in line with Rice Patch. Two kiting teams had a blast making the most of the wind and swells giving an incredible air show at Kamalo.
Malama Park came alive with the kupuna singing and playing their instruments, dancing hula, talking story bringing forth flowing ideas of the future of this cultural park.
This was an amazing experience for the young paddlers and after the crossing was over, they were made it quite clear that this was just the beginning in the long distance racing quest. Both Josie and Alex Mawae are ready and set to mark their calendars for 2012 with more events and for sure doing the Molokai Challenge again, but this time with more experience and training under their belt.
For more information on SUP racing and/or trying the sport on Molokai you can contact Clare Seeger Mawae from Stand Up Paddle Association of Molokai and Youth in Motion via email at clare@youthinmotion.org.