One Sharp Shar Pei
He may be only 55 pounds. He may be barely one year old. But that means little to Tai Chi, the Chinese shar pei owned by Lyndon and Janis Dela Cruz. The pup earned "best of breed" honors three times at American Kennel Club (AKC) dog shows on Oahu earlier this month.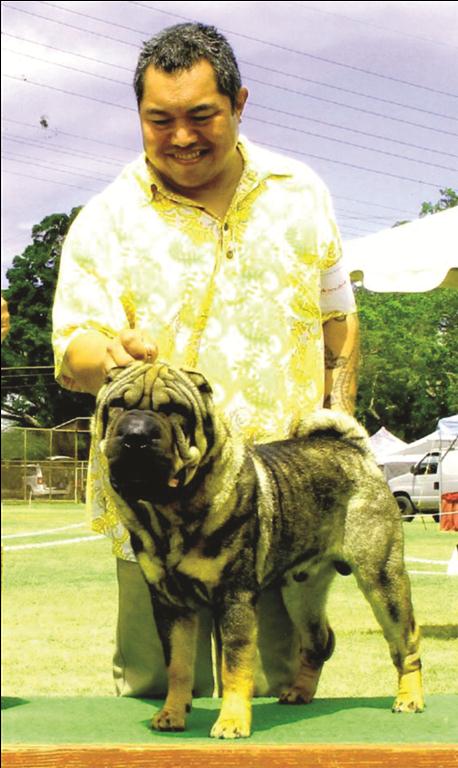 says is the best shar pei according to the standards," which include everything from height and weight of the dog to the shape of its ears and color of its tongue. (For Chinese shar peis, a solid blue-black or lavender-blue tongue is OK; a spotted tongue is not.)
Although he was one of the younger dogs judged, the three-day champ had genetics on his side: Tai Chi's mother, Chyna, who is also owned by the Dela Cruzes, previously earned No. 1 shar pei in Hawaii and ranked ninth in the non-sporting group, Lyndon said.
Still, she has some competition: "Her son is already beating her as far as points and majors," said Lyndon.
About 330 dogs participated on each of three days of competition at the Blaisdell Concert Hall in Honolulu, starting with the Hawaiian Kennel Club AKC All-Breed Show Sept. 3 and 4, followed by the Valley Isle Kennel Club show Sept. 5. Tai Chi seemed to enjoy himself, Lyndon said, and will compete in another show as early as next month.
"We'd love to encourage more Molokai people to … show their dogs at the AKC dog shows," added Lyndon, who owns Simon & Friends Pet Shoppe in Kaunakakai with wife Janis. "As long as your dog is registered with the AKC, we can help them" register for shows.