'Once-in-a-Lifetime' Learning
Kaunakakai students build ukulele and ohana
Nearly 75 third and fourth graders at Kaunakakai Elementary School took a break from regular classes last week for three days. But far from slacking off, they were engaged in the learning experience of a lifetime — building their own ukulele.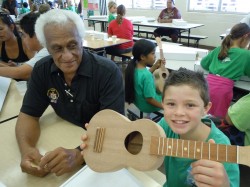 "This is the coolest thing in the world," said Lydia Clemens, mother of fourth grader Kayla. "We're blessed to have this opportunity. It's a once-in-a-lifetime thing."
Kayla, engrossed in using sand paper to smooth the unfinished wooden surface of her instrument, said she's looking forward to playing it.
"I can say I made it on my own," said fellow fourth grader, Marcus, proudly. "This is the only school that makes ukulele on Molokai."
The instruments were donated by KoAloha Ukulele, one of the world's three major uke manufacturers, according to the company's Assistant Vice President Brian Benavente. About a dozen KoAloha staff led the students last week in building their ukulele and offered hands-on assistance to each keiki with the more challenging steps of the process.
The Kaunakakai School workshop began eight years ago, Benevente said, with a simple inquiry from educator Josh Adachi.
"It started one year that students had really low scores for reading and math," explained Adachi. "We were talking about how to help the kids." He brainstormed ukulele-making as a learning project that would give students a finished product in their hands while incorporating math and reading research ahead of time.
"So I called the company, and they were more than willing," said Adachi.
With all costs and materials for as many as 40 instruments annually donated by KoAloha, the Kaunakakai School workshop is no small favor. But Benevente said simply, "It was in our hearts."
Normally the program is offered every year for third graders, but Benavente said because the company was tied up establishing a new factory in Thailand last year, they weren't able to make it to Molokai. This year, they included the fourth grade so no one would miss out on the opportunity — for a total of 74 ukulele.
With a room filled with 8, 9 and 10-year-olds all intently focused on building their instruments with the support of an older family member, the students themselves are proof that successful learning can take many forms. Third grader Owen, for example, took a break from the construction process to rattle off more than a dozen parts of his ukulele.
While "all the dangerous stuff is done" by staff ahead of time — meaning the body of the instrument is already formed — kids complete the full assembly and integration of their own ukulele, according to Benavente. That includes sanding, varnishing and stringing, a process that takes two to three days of work.
But the construction process is only a part of the experience.
"Building the uke is one thing, but what we aim to do is what you see here: kids working with a parent or family member," said Benavente. "To us, the uke as a finished product is bonus; building relationships is why this is so important to us."
Adachi agreed.
"A lot of kids don't work with their parents," he said. "I like to see the union of family and students working together. Classroom work of math and reading is important and this connects [to the academics], but to me, it's the touch — the union with family."
Parent Lori Pastrana has had several children build ukes through the program, and said her oldest, now a sophomore in high school, still plays the ukulele he built in third grade. Last week, she once again witnessed the process as she sat by her daughter Alaijah's side.
"The kids appreciate and take care of it… because it's something they build," she said.
"It's really special," chimed in Alaijah, grade 4.
Benavente said the relationship that KoAloha staff members establish with students is also significant.
"We get to see kids from past years walking around with their ukuleles," he said, adding with almost paternal pride that students from the program's first year are now seniors in high school.
Benavente said while the company originally committed to the program for 10 years, they have no intention to stop, calling it "our favorite workshop" — and the only one of its kind KoAloha offers annually. But, he said, "word has gotten out" — the company has done a similar program at the Queen Liliuokalani Children's Center on Hawaii Island, and he said they hope the idea will take root internationally.
Kaunakakai third grader Lydia said she looks forward to playing the first song on her new instrument, "Paniolo Country," for the school's May Day celebration this week.
Adachi said this year, third graders learned to play the ukulele ahead of time in preparation for their May Day performance, during which they will debut their newly-completed ukes.
With parents, grandparents, aunties and uncles joining with students in the hands-on learning process of creating something they can appreciate for the rest of their lives, the program is a testament to the power of strengthening ohana through education.
Bertha Adachi brushed sawdust off her shirt as she lent a helping hand to her grandson, fourth grader Pomai.
"Every child in here is so happy," she said.