Olympic Hurdles
Molokai Special Olympics rich in medals but short on money.
Molokai's Special Olympic athletes have been bringing home the gold. After an impressive showing at qualifying rounds in Maui last month, the athletes are gearing up to take on the state's top competition at the annual Summer Games this weekend in Honolulu. But even though they're racking in the medals, the program is hurting for dollars and cents.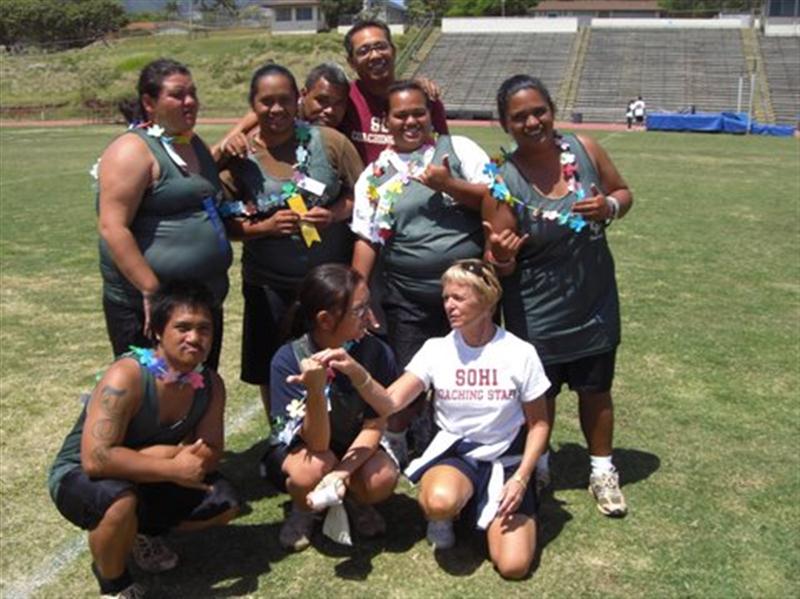 "They are improving each year and today they're getting all gold medals," said Donna Kapu, a member of the `Ohana Task Force, a volunteer league that helps coordinate events and fundraising.
Molokai swimmers took top honors in the breaststroke, backstroke, freestyle individual events and the team freestyle relay at the Maui qualifiers April 17-18.
Track and field athlete Ernest Kapu, Jr. came in first in the 200 meter race and shot put competition and said he was excited to be going to Honolulu.
"I'm gonna try to do my best," he explained.
Over 20 athletes — softball players, swimmers, weight lifters and track and field athletes — will leave for the Games Friday morning, along with coaches, volunteers and partner athletes. Partner athletes are those without special needs that play alongside Special Olympics athletes in team sports, according to Rita Kalahiki, Special Olympics Molokai Area Director. The Molokai athletes range in age from elementary school to late thirties and compete in divisions based on abilities, age and gender.
The Summer Games are a highlight for many involved.
"Just to see them smile and interact and feel like any other normal person — it's wonderful," said Donna Kapu.
Funding Trials
As they head into the Games hoping for victory, Special Olympics Molokai is grappling with one major defeat: Last month, the program was denied a Maui County grant it had received the last six years, according to Kalahiki.
In the past, the grant, which awards $56,000 over two years, was used to cover travel and administrative costs. Kalahiki said the organization must raise that money elsewhere to keep the program intact.
With three major competitions per year, plus qualifying rounds and smaller events, "an athlete can travel up to six times a year," Kalahiki said. Roundtrip airfare costs up to $200 per athlete depending on the season. Last year, the program spent over $28,000 on travel expenses.
Without the county grant, Kalahiki said she will either have to limit the number of athletes that travel to competitions or focus more on fundraising. Donations are hard to come by in such a small community already hurt by the slow economy, she added.
Last month, six Molokai athletes went to Maui to participate in Cops on Top, a fundraiser that took place statewide. Officers from the Maui Police Department spent three days atop the Lahaina Safeway and solicited donations from customers. They came in just short of their goal of $5,000, which will go to Molokai Special Olympics.
"It's hard," explained Kalahiki. "You're asking tourists and it gets to the point that you're begging for their dollar. It's humbling."
Molokai Special Olympics welcomes volunteers to join as coaches and partner athletes; call Rita Kalahiki at 567-9029 to register.