Ohana Learning
Tutu and Me expands to Maunaloa.
Tutu and Me may be a traveling preschool program, but it just found a second location to call home on Molokai. The program opened up a new location in Maunaloa on Jan. 11, operating out of the Maunaloa Community Center with nearly 30 ohana already enrolled.
"We're very excited to be there," said Jennifer Price-Williams, Molokai site manager. She said they chose Maunaloa because there was no preschool in the area and not many outreach services reach that far.
The preschool offers a unique opportunity that incorporates the whole family into the learning process. At least one parent, grandparent or guardian comes with the child to be involved in interactive activities. One of the program's goals is to give tools and skills to the parent for them to become their child's primary educator, according to Kupono McPherson, lead teacher of Tutu and Me on Molokai.
"We're secondary teachers," he explained.
A typical day at Tutu and Me begins with circle time, during which keiki and their parents join in singing songs and learning lessons from "Tutu," a puppet mascot that assists teachers in sharing good parenting habits, cooperative learning tips and life lessons. Keiki then have the opportunity to spend time with their guardian at 20 interactive learning stations that teach development and motor skills in a fun way.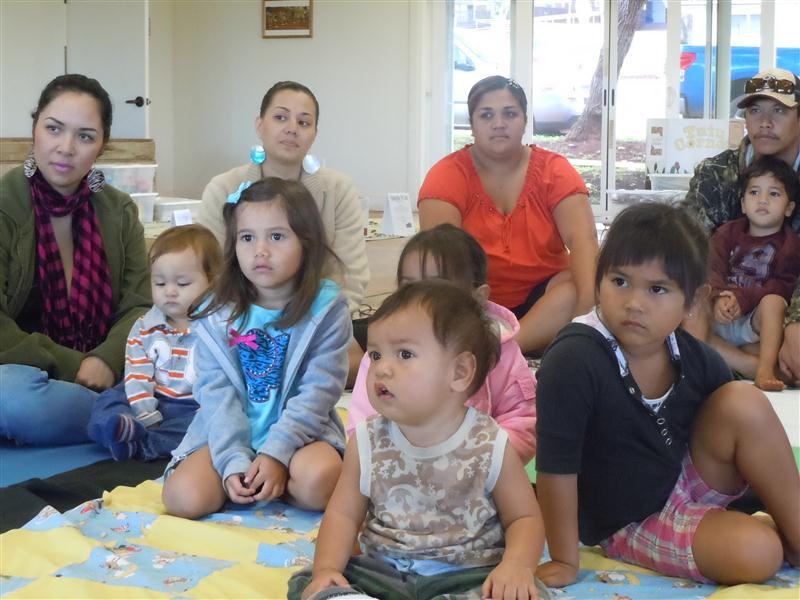 Fostering parental involvement teaches "the value of being a present and positive entity in being in a child's education," Price-Williams said.
"Everybody gets closer," explained Christine Kalilikane of the family component, who attends with her son Ashtin.
There is also a sign language component of learning, which McPherson said many keiki learn early. Molokai was the first of the Tutu and Me programs state-wide to introduce sign language, added McPherson.
While the program has two centers, the Maunaloa site and another in Kaunakakai, Tutu and Me is literally a traveling school. The classroom is packed up in the van and set up in each location on their respective days – Monday and Wednesdays in Kaunakakai and Tuesdays and Thursdays in Maunaloa. Each day lasts two hours, and all the supplies are packed back up for the next stop. Staff consists of a four-teacher team – leader teacher, two teaching assistants and an assessment specialist.
"We did close our Kualapu`u site and were very saddened to leave," Price-Williams said. She added that most of their Kualapu`u families transferred to the Kaunakakai site. "We feel that we are able to reach more families being in Kaunakakai and Maunaloa and hopefully one day we'll be able to expand even further."
If you would like to enroll in the Tutu and Me program at either site, contact Price-Williams at 560-5642.