Ohana Learning
It's not unusual to see families camping on Molokai. But it is unusual to see eight ohana spending a week at a fishpond, learning ancient skills, proper diet and Olelo Hawaii from their kupuna. It's Lawaia Ohana Camp, a week-long program held at Ali`i Fishpond by Ka Honua Momona (KHM) and called the first of its kind by its organizers.
The camp is unique, said program director Kilia Purdy-Avalino, because of its focus on ohana. Many other similar camps on Molokai are specific to a certain age group, but at Lawaia Ohana, babies to kupuna learn together.
"If ohana stays strong, the island stays strong," said Kanoe Davis, participant and site coordinator. "This is so different from other projects I've been on."
Lawaia Ohana was made possible through a Conservation International grant that supported five similar camps in communities around the state. One of the organization's goals is to teach sustainable fishing, regulations and protocols, said Purdy-Avalino. To this end, each participating ohana received fishing gear such as dive bags and snorkel, as well as the resources to continue those skills after the camp. Participants made their own bamboo fishing poles, nets and much more.
"I learned how to make a dry box, throw net and how to work in groups," said student participant Iokepa Kaupu. His favorite part, he said, was having fun with friends and diving.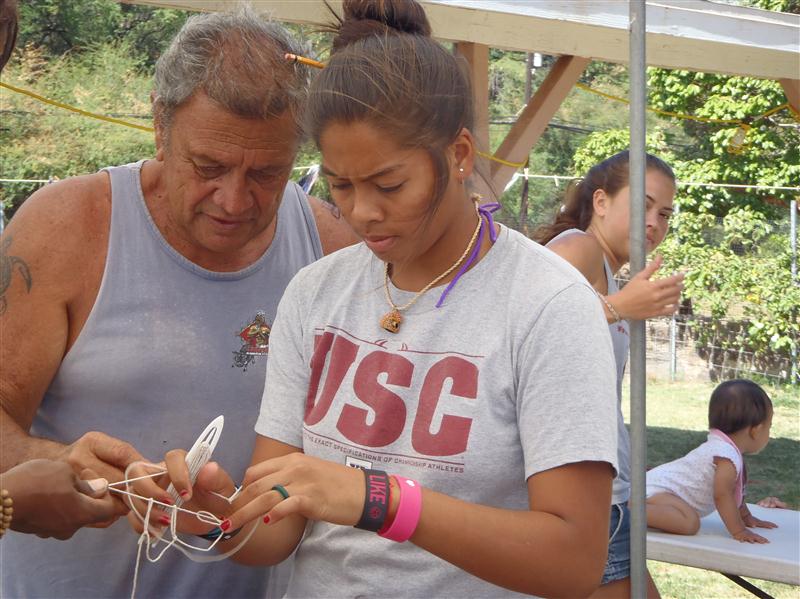 "I feel good this is happening – working with ohana is really good," said kupuna KHM volunteer Merv Dudoit. "We're all one big family."
For Herbert Hoe, another KHM kupuna, proper diet is one of the most important aspects of the camp. The food they prepared, he said, reflects what the ancestors ate, with an emphasis locally-gathered, well-balanced diet, including lots of fruits and vegetables.
"We try to understand what our ancestors did and take the good from it," said Hoe.
Not only did participants learn about the fishpond, they also visited other areas of the island to learn from local practitioners. They gathered pa`akai – Hawaiian salt – from Mo`omomi, caught he`e – octopus – from the island's east end and learned how to pound it and dry it in the dry boxes they made, and took excursions to mauka side to learn about ancient building techniques – "to see what our forefathers were really thinking about," according to Hoe.
Olelo Hawaii was interspersed with English throughout the week. Purdy-Avalino said her dream is to hold the camp for as long as three weeks – "the longer you go the more pa`a the language gets," she said.
"I enjoy this thing so much – it's something real amazing," said Dudoit, explaining the satisfaction of sharing the knowledge his kupuna gave him with the younger generation.
"I feel tired at night but I wake up early, ready for another day," he said.
Organizers would like to mahalo all participants, those who helped to make it happen, and those who donated time and food.