Ohana By Hawaiian Starts Molokai Service March 11
Hawaiian Airlines News Release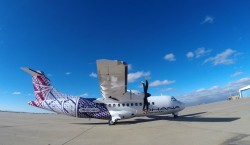 Tickets for Hawaii's newest interisland operation, 'Ohana by Hawaiian,  are now available for its long-awaited turboprop service from Honolulu International Airport (HNL) to Molokai Airport (MKK) and Lanai Airport (LNY) by booking online at HawaiianAirlines.com. Three daily flights to MKK will launch on Tues., March 11 and twice daily service to LNY will begin Tues. March 18. In celebration of the launch, the airline is offering a special fare of $59 each way for tickets booked through Mon., Feb. 17 for travel through April 17, 2014 to both destinations.
"As Hawaii's first airline, this new operation anchors us to our legacy and vision to connect all of our island communities through flight, making it easier for kama`aina and visitors alike to share time together," said Hadden Watt, managing director of 'Ohana by Hawaiian. "We look forward to providing travelers the same standards of consistent service and reliability combined with the friendly and authentic Hawaiian hospitality they've come to expect of Hawaiian Airlines."
The daily flights for Molokai, operated by Empire Airlines, are scheduled below:
Flight         Route    Departs      Arrives        Start Date
HA610 HNL-MKK 7:00 a.m. 7:25 a.m. March 12, 2014
HA611 MKK-HNL 8:05 a.m. 8:30 a.m. March 12, 2014
HA614 HNL-MKK 12:15 p.m. 12:40 p.m. March 12, 2014
HA615 MKK-HNL 1:20 p.m. 1:45 p.m. March 11, 2014
HA618 HNL-MKK 5:30 p.m. 5:55 p.m. March 11, 2014
HA619 MKK-HNL 6:35 p.m. 7:00 p.m. March 11, 2014
The livery of the new 48-passenger ATR-42 aircraft was created by renowned Hilo-based artist Sig Zane and his son Kuha`o. They incorporated Hawaiian Airlines' interisland route map as a foundation for the design, which weaves three kapa patterns: piko (navel), representing ancestry and progeny; manu (bird), representing both a bird in flight and the prow of a canoe, the traditional form of migration; and kalo (taro), representing family. The ATR-42 aircraft are named after a significant wind on each of the islands that 'Ohana by Hawaiian will serve: Holo Kaomi of Paoma`i, Lanai; Kaiaulu of Wai`anae, Oahu; and Hikipua of Halawa, Molokai.
The 'Ohana by Hawaiian operation creates more than 100 new Hawaii-based jobs in various areas of air transportation including pilots, flight attendants and mechanics as well as ground-handling and customer service positions. Hawaiian Airlines handles reservations and sales for the new operation, allowing the interisland flights to integrate seamlessly into Hawaiian Airlines' well-established route network. The service will operate out of gates 49 and 50 at Honolulu International Airport.
Members of HawaiianMiles, the Hawaiian Airlines loyalty program, can earn or redeem miles for award travel on all 'Ohana by Hawaiian flights. To learn more or to sign up for free, visit HawaiianAirlines.com/HawaiianMiles.