'Ohana by Hawaiian Offers Free Food Transport
Hawaiian Airlines News Release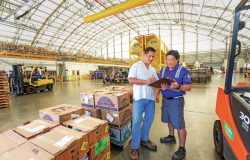 When Kristina Gomez learned her elderly parents on Molokai were impacted by the abrupt closure of a main grocery store in the town of Kaunakakai due to COVID-19 cases, she wanted to find a way to help. A Hawaiian Airlines guest service agent in Honolulu, Gomez reached out to our leadership team late last week, suggesting we set up a transportation service between Oahu and Molokai to assist the rural island's residents.
Teams with Hawaiian Air Cargo and 'Ohana by Hawaiian – our turboprop operations offering passenger service to Molokai – worked through the weekend discussing requirements of the proposed service, consulting with local government officials, and obtaining necessary TSA approvals.
Starting April 14, 'Ohana by Hawaiian will begin providing complimentary transportation of food and household items from Oahu to both Molokai and Lanai.
"There was a shared desire by community members and government officials to offer transportation service for essential items to Molokai and Lanai. It was great to see our team band together to launch a complimentary shipping program in a few short days," said Blaine Miyasato, managing director of state government affairs at Hawaiian Airlines. "A special mahalo to state Sen. J. Kalani English and Rep. Lynn DeCoite, as well as our TSA partners for their support of this effort."
'Ohana by Hawaiian flights operated by Empire Airlines with ATR 42 aircraft will transport, at no cost, up to two packages from Oahu shippers sending food and/or household items to Molokai or Lanai. Shippers must present a valid ID and adhere to maximum package weight and size restrictions and program guidelines before dropping off items between 10 a.m. and 1 p.m. Monday through Friday at our Hawaiian Air Cargo facility. Cargo space will be offered on a first-come, first-served basis to the first 25 customers per flight each day. Shippers are encouraged to contact us at (808) 835-3799 prior to coming to our facility.
Receiving customers can pick up their shipments at the Molokai airport within one hour of the following 'Ohana by Hawaiian arrivals. On Molokai, flight HA 672 is scheduled to arrive at 5:01 p.m. Check HawaiianAirlines.com for flight status.
"Empire Airlines has had the privilege of providing service and support to the communities of Molokai and Lanai for over six years and we are humbled by the spirit that prevails in these communities," said Pieter Meinster, manager of Hawaiian operations at Empire Airlines.
"I am so elated to hear of the service that Hawaiian Airlines will be providing Molokai residents," Gomez said. "I cannot express the overwhelming gratitude I have for Hawaiian and their willingness to help the people of Molokai during this difficult time!"