'Ohana by Hawaiian Not Returning
By Catherine Cluett Pactol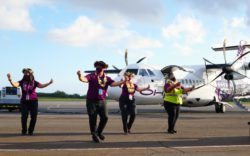 'Ohana by Hawaiian, which had temporarily suspended flights to Molokai in January, announced it is permanently closing operations. The passenger service previously offered flights between Honolulu and Molokai and Lanai, as well as cargo service.
Hawaiian Airlines cited a severe decline in travel demand from the COVID-19 pandemic and state and county quarantine measures triggering a labor provision that led to the temporary suspension of passenger and cargo flights early this year. Hawaiian representatives said the company decided to permanently end service following an in-depth assessment of the overall operation and its long-term viability.
"This is a heartbreaking decision, particularly for those of us who were involved in launching the business in 2014," said Peter Ingram, president and CEO at Hawaiian Airlines. "We took a hard look at the service and could not identify a way to restart and sustainably operate."
The company said in a statement last week it "would have incurred significant costs and faced numerous obstacles in restarting service with its current fleet of aircraft. The soonest flights could have resumed was at the end of this year."
The decision leaves Molokai with only one air carrier, Mokulele Airlines. Previously, kupuna and those requiring wheelchair accommodations relied on 'Ohana's larger ATR 42 aircraft for access to medical appointments and essential travel. With 'Ohana's halt in service five months ago, Mokulele made immediate arrangements for a wheelchair lift into its nine-passenger Caravan aircraft and made policy changes to help accommodate those needing extra assistance and passengers who previously exceeded the company's weight limitations.
Last month, Mokulele announced that its parent company, Southern Airways, will additionally be bringing in a larger, 19-passenger, pressurized, twin-engine turboprop aircraft to help fill the gap and better serve Molokai residents. Service is expected to start this fall, with two roundtrips to Honolulu from Molokai most weekdays initially, the airline said.
Mokulele Chief Marketing Officer Keith Sisson said the airline will "continue to add aircraft and crews to satisfy demand so that we can keep our promise of no 'sold-out' days."
However, some residents have expressed frustration with Mokulele's high airfares and what they have called poor customer service.
"Mokulele Airlines is the only airlines that provide service for our island —sadly enough the prices are outrageous and it makes it so hard for many of us to travel off island especially for medical needs," wrote one frustrated resident on a public social media forum.
Some Molokai customers have reported trouble reaching a Call Center representative for assistance, having to call back multiple times, being put on hold for long periods, or never receiving promised return calls.
"Complaints to DOT is what needs to happen from everyone here about their monopoly and lack of customer service in regards to changing flights and fees," wrote another Molokai customer.
Some residents have urged others to file testimony with the federal Dept. of Transportation Essential Air Service division that handles regulating service to rural and hard-to-access communities. Mokulele Airlines was deemed a satisfactory air service for Molokai under EAS provisions when 'Ohana ceased flying.
With 'Ohana by Hawaiian's official termination, the Molokai community is left relying more than ever on Mokulele's service.
"Hawaiian Airlines has been a good partner for the neighbor islands, and I'd like to believe the airline can return someday in the future," said Mayor Michael Victorino in a statement about 'Ohana's closure. "Fortunately, Mokulele Airlines will continue to serve both islands; Lanai can also rely on Expeditions Ferry service. Rep. Lynn DeCoite and I have discussed our shared concerns about the loss of medical transport to, and from, Honolulu for patients who require special seating or the use of boarding ramps for mobility reasons. We understand that Mokulele has plans to expand to larger aircraft to compensate for the loss of lift, and we appreciate their concern for the people of Lanai and Molokai. We will continue to research alternatives for those with special travel needs."
DeCoite echoed the need for continued air service.
"With the lifting of some COVID-19 regulations and the start of the inter-county vaccine passport for our local residents, ensuring viable travel options for Molokai and Lanai residents is para-mount," she said in a statement last week. "So many of us from Molokai and Lanai need to travel for basic and advanced medical care. We want to see our families on neighbor islands and even on the mainland. I know and understand this very well. Hawaiian Airlines announcement is dis-appointing, while options are minimal, we do want to get island hopping again. Mahalo to 'Ohana by Hawaiian and Hawaiian Airlines for all that you have done for us."
'Ohana by Hawaiian launched service to Molokai in 2014. On their last day of service in January, Molokai community members and local employees celebrated a tearful close of operations.
"We thank the communities of Molokai and Lanai for their support of 'Ohana by Hawaiian," said Ingram. "We will continue to explore opportunities to return to and to reconnect the islands as Hawaii's carrier."