Obituary: Steven James Schonely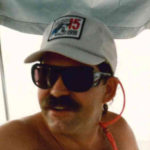 Steven James Schonely passed away on Aug. 31, 2012 at his home in Kaunakakai. He was born on March 29, 1951 in Agana, Guam. He is survived by his mother Barbara Schonely of Kaunakakai, Molokai, father William Schonely of Portland, OR and his three younger siblings: Linda (Jim) Christison of Portland, OR, Rick Schonely of Kalua`aha Molokai, and Billy (Sam) Schonely of Hillsboro, OR. Steve's passion was for the deep blue sea, where he spent many days and nights fishing the waters of Hawaii. He was also the owner of Island Kine Auto Rental & Sales.
Services will be held on Sept. 29 at 9 a.m. at Kalanianole Hall, with scattering of ashes at Kaunakakai Harbor around 11 a.m.