Obituary: Scott Kaʻuhanehonokawailani Adams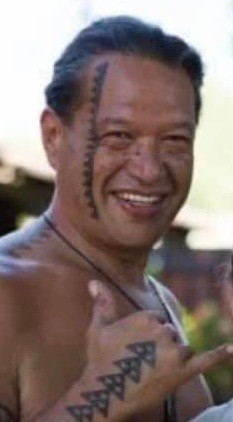 As the sunset slowly into the sea on August 20, 2022 Scott Kaʻuhanehonokawailani Adams took his final breath. Like the flash of green seen just as the sun makes its final descent he left his earthly presence to join his kūpuna.
Surrounded by his wife Mayumi Momilani Takeda-Adams, his mother, Sylvia AuHoy Adams, his children; Kealaokamaileawakea, Kawehihuneokawailani, Kamahinakalae, Kaulupamakealahou, Kamakahoominoaka and his sister Roxanne.
He is also survived by his brother Cole, his nieces; Malia and Eliana, his beautiful grandson Leimana and his many Uncles, Aunties, cousins and friends from across this pae ʻāina and the
entire honua.
Kaʻuhane was born to Walter Scott Kaʻuhanehonokawailani Adams and Sylvia Ann Mililani Sun How AuHoy Adams on May 23, 1967. He came into this life just like he left it, as the sun was setting along the shores of Waikīkī.
In 1971 Kaʻuhane moved to his beloved Molokai with his family where he lived out his life. Learning to hunt, fish and farm as his ancestors might have. Running wild and free, he enjoyed living close to the ʻāina.
Ka'uhane, affectionately known as "Hane-chan" met his beautiful bride in the early part of this century and started what would be the best part of his life. Enjoying a calm and peaceful life on Molokai and traveling to Mayumi's homeland and experiencing life in rural Japan planting and harvesting rice on the family farm.
Kaʻuhane will never join his mother and beloved Momi on the beaches of Mānaʻe to hi'uwai at sunrise after the Mahealani or Hilo moon. He will not plant trees along the shore and uplands of his cherished moku.
He will no longer provide relief and healing through lomi with his kumu Pōmakaʻi Freed and Pā Ola Hawai'i or train with his ʻōlohe Daniel and Justin Kawaiae'a at Pu'u Koholā. Papa Kaʻuhane will not be here to teach his grandson Leimana the ways of ka poʻe kahiko. He will never finish building his homestead at Ho'olehua.
But we will see him in the mist along the mountains, as the sun sets into the ocean and the sunrise of each new day and I will miss him again and again in this life until I meet him again in the next life.
Ho'olewa
September 21, 2022
Oahu Cemetery
Viewing at 2 to 4 p.m.
Celebration of Life
October 1, 2022
10 a.m. to 5 p.m.
Adams' Homestead
Ho'olehua Molokai