Obituary: Robert "Bobby" Paleka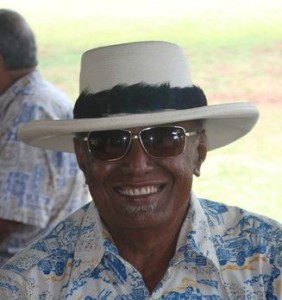 Robert "Bobby" Paleka of Ho`olehua, Molokai, died at the age of 72 on June 19, 2012 at his home on Mo`omomi Ave. He was a retired equipment operator for Grace Pacific Corp and Operators Union Local 3. He was born on Sept. 17, 1940 in Ho`olehua.
He is survived by wife Barbara " Bea" Paleka; son Sonny (Rhonda) Paleka of Hilo; daughters Roberta "Penny" (Mike) Paleka-Steinhoff of Ho`olehua, Shatina (Keala) Paleka of Ho`olehua, and Myra (Nate) Ah Mook Sang of Honolulu; brothers Herman (Joan) Paleka of Kauai, Henry "Bully" (Rosie) Paleka of Kalamaula, and Earl Paleka of Kaunakakai; sister Jamesie "Hunny" (Reuben) Sambajonof Kaunakakai; six grandchildren and one great grandchild.
Memorial service will be held on Sat. July 14, 2012 at Lanikeha Hall in Ho`olehua. Visitation from 8 to 11 a.m., service from 11 a.m. to 12 p.m., burial to follow at Ho`olehua Cemetary. Celebration of life luncheon at Lanikeha from 2 to 5 p.m.