Obituary: Mike Hiroshi Misaki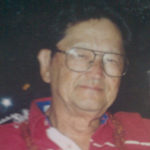 Mike Hiroshi Misaki, 89, passed away on July 29, 2014. He was born on Aug. 24, 1924 in Kaunakakai, Molokai. He was the owner of Misaki's Inc.
In 1945, he served in the Army for two years in the Philippines. Upon returning, he decided to attend the National School for Meat Cutting in Toledo, Ohio and later resumed working at Misaki's. He was an active member of Kalaiakamanu Hou Church and was the general chairman for the building committee that built the Sunday school and parsonage in 1965. He also served as a deacon.
He was married for 63 years and is survived by his wife, Diana, his children, Kevin, Gil and Lorri, and his grandchildren, Kristen, Kory and Kekumu. His siblings are Clara Takata (Francis) (deceased), Richard Misaki (Grace), Rikio (deceased), Eileen Pate (Richard), Tadashi (deceased) (Jean), Irene Iwane (Harold), Kazue (deceased) and Kenneth (deceased).
Mike had a passion for life and enjoyed fishing, hunting and golfing. He traveled throughout Europe, the mainland, Canada, Mexico, New Zealand, Puerto Rico and Japan. However, when he returned, he would always say that there was no place like Molokai. He loved it here and the people of this island.
Services will be held on Aug. 9, 2014 at Kalaiakamanu Hou Church. Visitation will be from 8 to 10 a.m., funeral service from 10 to 11 a.m., with lunch to follow.
Private graveside service.
All monetary gifts will be donated to the Alzheimers Association.