Obituary: Julia Coelho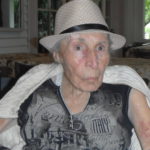 Julia Coelho of Kawela, Molokai passed away on March 14, 2013 at the age of 87 at her daughter's home on Oahu. She was a retired nurse with Molokai General Hospital and was a helping hand for many with animals. Born in New York on Aug. 17, 1925, she traveled to Europe and Central America before settling down on Molokai in the mid 50s.
She is survived by her daughter, Clarice (Coelho) Olayvar; sons Michael and Clarence W. Coelho Jr., six grandchildren and 10 great grandchildren.
Visitation for friends and family will be on Saturday, April 6, 2013 from 9 a.m. at the St. Damien Catholic Church in Kaunakakai, Molokai. Services to follow at 10 a.m. Private burial.