Obituary: Jane Yuen Chang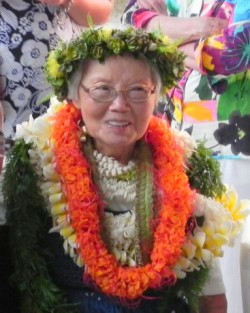 Jane Yuen Chang, the last surviving member of Y.K. Yuen's family, passed away peacefully on March 20, 2015 in Maunaloa, Molokai. She was fondly known as "Aunty Jane" throughout the Friendly Isle.  Jane endeared everyone with her kind, gracious and gentle spirit. She was 91.
She was born in Honolulu on Jan. 24, 1924 to Lin Tai and Y.K. Yuen.  Her father opened the first pineapple plantation store on Molokai in the early 1920s, and eventually operated four grocery stores on the island.  Jane survived her sisters, Lilyan and Marybeth, and brother, Sonny.
Educated in Honolulu, Jane attended Hanahau`oli School and graduated from Punahou in 1941. Following the attack on Pearl Harbor, she attended the University of Wisconsin in Madison, where she earned a Master's degree in microbiology. Jane's lifelong passion was art.
Jane married Kenneth Y.E. Chang, M.D. of Honolulu, who became a colonel in the U.S. Army. They raised four children.  Her husband's medical career took them to Germany, and various places on the Mainland. He also worked for the Indian Health Service. They lived on the Crow Indian Reservation in Montana. In Alaska, he worked with Alaska Natives.
After her husband died, Jane fulfilled her dream of returning to Molokai in 2000. Jane loved the people and natural beauty of the Friendly Isle. She said, "I love my family and my home will always be Molokai."
Jane is survived by her son, Ken Chang, DDS, daughters, Laurel Kime, Momi Chinn and Heidi Chang, five grandchildren, and many nieces and nephews.
A celebration of Jane's life will be held at Grace Episcopal Church in Hoolehua on Saturday, March 28, with visitation at 10 a.m. and service at 11 a.m.  Afterwards, please join the family for lunch at the Fellowship Hall.
Donations in her memory may be sent to Grace Episcopal Church on Molokai and St. Peter's Episcopal Church in Honolulu.