Novel Set in Ancient Hawaii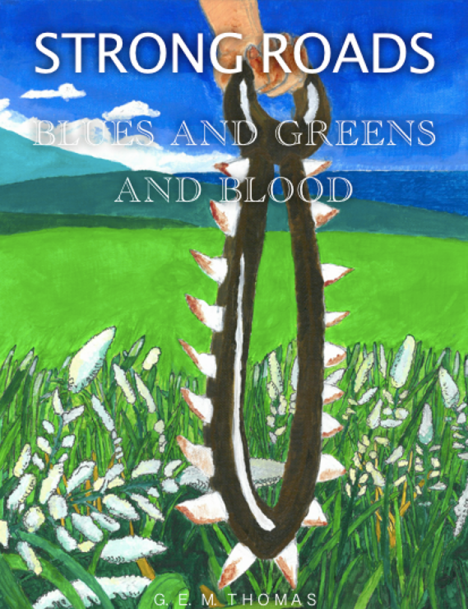 Gem Thomas News Release
"Strong Roads: Blues and Greens and Blood"is the title of Gem Thomas' newest novel. It was written while the author travelled throughout Molokai in 2012. His novel is a creative non-fiction work. The work was inspired by a legend in Hawaii that is centuries old. This is the first novel rooted deep in Hawaiian culture and in addition, uses a new medium to share the story.
It tells the tale of Spanish soldier, Alonso Truylos, who survives a shipwreck by washing ashore the sixteenth-century, Island of Hawaii. Eventually, the character becomes a chief and falls for a higher-classed chiefess. Trouble is tied to their relationship by envious chiefs. Meanwhile, the high chief of Hawaii, Lono-i-ka-makahiki, enters into war with his brothers and Alonso finds himself thrust into the middle of politics. The story ends with this special chief forced to make one decision that powerfully influences his destiny.
What makes this novel beyond unique is its use of new technologies. "Strong Roads: Blues and Greens and Blood" allows readers to hear the pronunciation of Hawaiian words, read anecdotes about every character, and explore the narrative all with their fingertip. This technology was made possible by using iBooks Author by Apple. Gem was introduced to a dozen Molokai residents who contributed to this project with enthusiasm by voicing words for the digital story. Their help made this creation possible, as did David Malo, S. M. Kamakau, John Papa `I`i, and other brilliant historians from 19th-century Hawaii.
Readers have expressed great interest in this new ability to blend media with a story. "Strong Roads: Blues and Greens and Blood" was a second-round pick in the Amazon Breakthrough Novel Award for 2013 and has been reviewed in Publishers Weekly.
Gem graduated from the Pennsylvania College of Technology in 2009. After graduation, Gem travelled around Hawaii exploring the land and its people. For three years, he worked on this novel and its prequel, Strong Roads: A Spanish-Shipwreck Survivor in Ancient Hawaii. He now writes in Anchorage, Alaska.
This novel and his other literary work is available on gemthomas.com.