Nothing But Junk
Rusting cars, rotting mattresses, a washer, tires and bicycles litter the roadside – one would expect to find the scene above at a landfill. However, makeshift dump sites have popped up around the island as frustrated residents have no where to take certain items.
In the year since Molokai closed its metal recycling facility, residents have created illegal dumping grounds, like this one at the intersection of Maunaloa Highway and Kaluakoi Road, for lack of a better option.
Relief is on its way. Starting next week, Molokai Metals Facility (MMF) will be open temporarily to recycle vehicles, motorcycles, appliances, propane tanks, vehicle tires, batteries, scrap metals, metal roofing, gutters, sinks, faucets, pipes, bicycles, mowers, tools and fencing.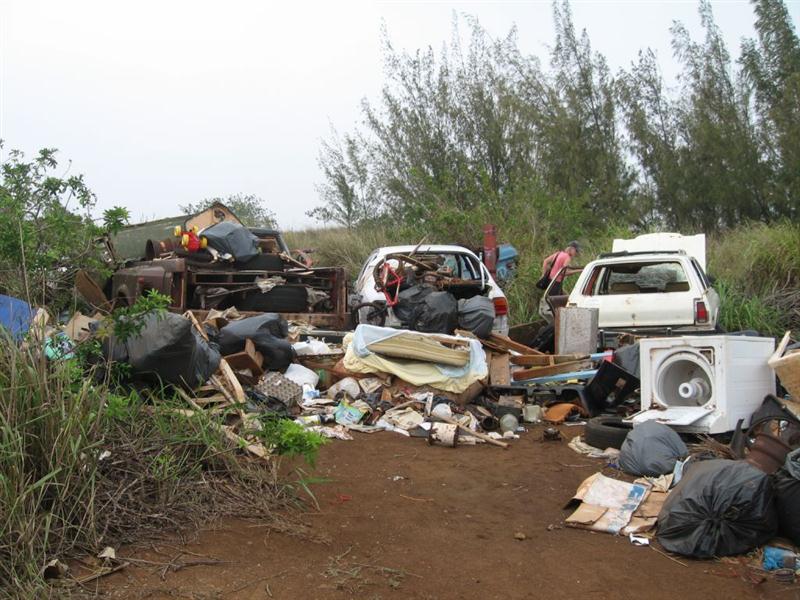 The hardest part of recycling is simply separating the materials, said Dwayne Kala, supervisor for the county's contractor Recycle Molokai.
"You're just lazy – throw all your trash in a bag, tie it up and that's it," he said. But taking the extra minute, he added, is a small price to pay for slowing the growth of the landfill.
Solid Recycling including E-cycling is open Tuesday to Saturday, 8 a.m. – 2:30 p.m. Green Waste is open Thursday to Saturday, 8 a.m. – 2:30 p.m. For the landfill, call 553-3869; for MMF, call 877-2524.