Noe Ornellas Cluney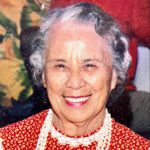 Noe Ornellas Cluney, 98, of Hoolehua passed peacefully on December 9, 2021. She was born on Oct. 5, 1923 in Honolulu.
Aunty Noe was a Ho'olehua homesteader for 72 years and was employed by the Hawaii DOE serving as the school secretary at various times over 32 years at all of the public schools on Molokai. An often-repeated story from her days at Maunaloa School was when truant children were found at home and led to school in line behind an officer on horseback.
Lydia Kamakanoe Paikuli Ornellas Cluney is survived by her sons William "Billy" Ornellas, Richard "Ric" Ornellas and Fred Ornellas, deceased; stepson Raymond Ornellas; and stepchildren Loy Cluney, John Cluney, Mark Cluney, Sarah Cluney and Will Cluney, deceased. Her grandchildren are Eleu Kamakanoe Ornellas, Summer Ikaika Ellis, Alexis Kamakanoe Ornellas, Keli'i Ornellas and seven great grandchildren.
Aunty Noe and Raymond Ornellas, her first husband, founded and built Grace Episcopal Church in Ho'olehua along with the Richard Hanchett family and various families from Kualapu'u, Kaunakakai and Kalae. After the passing of her first husband, Noe Ornellas married widower E.Loy Cluney, a former Molokai Police Chief and Maui County Councilman, 1969-1978.
A memorial service will be held at Grace Episcopal Church in Ho'olehua on Saturday, June 4 at 2 p.m. The burial is private. In lieu of flowers, donations can be made in Aunty Noe's name to Grace Episcopal Church.