Noa Emmett Auwae Aluli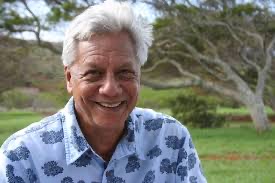 Noa Emmett Auwae Aluli, M.D., age 78, passed away Nov. 30, 2022 at Kaunakakai, Molokai. Born on Oahu in January 1944 and raised in Kailua, he graduated from St. Louis College ʻ62 (St. Louis High School) and Marquette University ʻ66. Dr. Aluli taught at Damien High School and Kailua Intermediate before graduating in the first class at the University of Hawaii Medical School ʻ75 (John A. Burns School of Medicine, JABSOM).
Dedicated to the health and well-being of Native Hawaiians, Dr. Aluli was a family practice primary care physician at the Molokai Family Health Center (46 years), a Medical Director of Molokai General Hospital and an Adjunct Assistant Medical Professor at JABSOM.
He was co-founder of the Protect Kahoʻolawe ʻOhana that led the aloha ʻaina movement to stop military use of Kahoʻolawe island. He was co-founder of Pele Defense Fund, protecting volcano akua, Pele, from geothermal development. He inspired generations to protect Hawaiian lands, practice Hawaiian culture and restore Hawaiian sovereignty.
He is survived by life partner Davianna Pomaikaʻi McGregor; daughter Rosie ʻAnolani Alegado (Raymond Kong); moʻopuna Justice Leihiwa and Cassius Kuamoʻo Kong; brothers Ronald Chong Kee, sister Kalai Teves and brothers Hayden, Pia and Webster Aluli; nieces, nephews, and Aluli and Cockett ʻohana. He was pre-deceased by parents Noa Tong and Kuʻuleimokihana Aluli and brother Noa Kekahu Aluli.
Celebrations of life will be in Hoʻolehua, Molokai, on Saturday, Feb. 4, at Lanikeha Community Center, with 9 a.m. visitation, service at 10:30 and pa'ina at 12:30 p.m. Services in Kakaʻako, Oahu will be on Saturday, March 4 at JABSOM, with 9 a.m. visitation, 10 a.m. service and 12 p.m. pa'ina. For more information, visit noaemmettaluli.org.