No Shrimp of a Business
If you buy shrimp in the grocery store, there is a good chance it was grown in Southeast Asia. But that shrimp may be a descendant of a shrimp raised by Steve Chaikin, owner of Molokai Sea Farms. His business is among the lead suppliers of shrimp breeding stock in Hawaii for the booming overseas shrimp industry.
Chaikin remembers selling shrimp out of the back of his truck in Kaunakakai every Friday back in the early 90s. He also stocked wholesale markets all over the state. That is, until his shrimp sales "came to an abrupt stop" in the mid-90s, when Southeast Asia emerged as the shrimp farming capital of the world.
"We had to reinvent ourselves," said Chaikin, who's owned and operated Molokai Sea Farms (MSF), located on the south shore just west of Kaunakakai, since 1988.
That reinvention resulted in Chaikin's business distributing brood shrimp, or mature shrimp for breeding, to over 20 countries around the world, including Japan, China, Korea, Vietnam, Philippines, Thailand, India, Saipan, Mexico, Canada, Jamaica, Honduras, Norway and Israel. Molokai Sea Farms even ships to Iran, after receiving a special license from the U.S. government.
A Changing Business
When Chaikin bought the farm, formerly known as Orca Sea Farms, he "knew absolutely nothing about shrimp." With the help of a county grant that provided technicians and training in the field, Chaikin learned as he went.
To overcome the economic downturn in business, Molokai Sea Farms began diversifying by growing moi, mullet, awa, catfish, tilapia, ogo, popcorn shrimp as well as supplying shrimp larvae to other farms.
"It was a struggle to pay the bills," Chaikin said.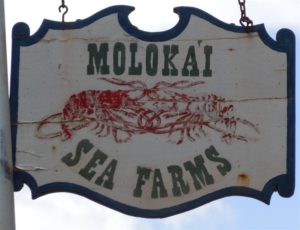 But things changed in 1998, when Chaikin got a request from China for shrimp larvae. The following year, he heard back that the project had been an enormous success. They wanted as much mature shrimp breeding stock as he could send them. At that time, the full-grown brood shrimp could fetch a price as high as $25 a piece, whereas the local market would pay $0.25 per shrimp, said Chaikin.
Disease prevention in shrimp production is a major concern in Southeast Asia. Antibiotics and growth hormones are not approved for shrimp, and disease can wipe out a whole crop. The State of Hawaii Aquaculture Disease Prevention Program routinely tests Molokai Sea Farms for specific shrimp pathogens. Testing negative for those pathogens enables the farm to obtain necessary documentation to export. And because shrimp diseases are so prevalent in Southeast Asia, there is a great demand for healthy breeding shrimp — which is where Chaikin and other broodstock businesses come in. The overseas farms, in turn, produce huge numbers of shrimp for export back into the U.S.
Oil is the U.S.'s number one import, but seafood is number two, and shrimp ranks at the top of the list, according to Chaikin. While the U.S. government put money into developing domestic shrimp farming, he said, it never took off into large-scale operation like it did in Asia.
Life of a Shrimp
Shrimp begin as one of 150,000 to 250,000 eggs laid by each female. When the females become "ripe" and colorful, they are ready to mate, which usually occurs in the afternoon or early evening. After the eggs hatch, the larvae spend three weeks in rearing tanks. The larvae look nothing like shrimp and spend their first few days swimming sporadically in every direction. After molting, they swim in the forward direction for a week then molt again and swim backwards for another week. Finally, they emerge as "post larvae," looking just like adult shrimp, and spend the next six to 10 months maturing in Chaikin's ponds.
The labor-intensive process doesn't end when they mature. Once they are ready to be shipped out around the world, Chaikin and his team of three part-time employees work almost all night to prepare them for the long series of flights to their destination.
A large order consists of over 100 boxes with 10 to 12 shrimp per box. They are packaged in special bags filled with saltwater and oxygen and placed inside Styrofoam coolers. The water is chilled to 14 degrees Celsius (about 57 degrees F) to slow the crustaceans' metabolism. With a limited amount of oxygen in the bags, Chaikin said it is important to keep the shrimp cool otherwise their breathing rate will increase and they will use up the oxygen during the long flights overseas. Most shipments arrive within 48 hours.
"Ninety-five percent of the time, 95 percent of the shrimp make it there alive," Chaikin said.
He credits Kamaka Air for making his business possible. The plane arrives at the Ho`olehua Airport 5:15 a.m. to pick up the shrimp on the first of many legs to their final destination.
Nothing but the Best
Molokai Sea Farms has a 25-year history of high quality, disease-free shrimp. While Chaikin's business now focuses on international export, he still provides aquaculture products directly to Hawaii and Molokai. In addition to shrimp, Molokai Sea Farms still grows ogo and tilapia for live fish markets in Honolulu. On Molokai, his ogo can be found at Misaki's.
Fresh shrimp, fish and ogo are available to Molokai residents in bulk amounts over 10 pounds. Email Molokai@me.com for orders.
Molokai Sea Farms is one of two shrimp operations on Molokai. The other is Keawa Nui Farm, managed by John Austin. Keawa Nui markets mainly to restaurants in Hawaii, including Molokai. He also sells some broodstock.