No Loss for Words
Slam poetry blends rhyme with reason.
It's fluid. It's gutsy. It's real. And it's certainly not your typical Emily Dickinson crowd. Slam is a new wave of poetry that has spawned a group of imitators, sewing seeds across the map – all the way to Molokai.
On March 16 and 17, Honey Girl Hoe, a 21-year-old slam poet from Honolulu with family in Molokai, held a series of workshops at Kalele Bookstore in Kaunakakai that inspired participants to break free from their shells and voice their reflections.
Honey Girl opened last Wednesday's session with one of her latest creations "I'm Home."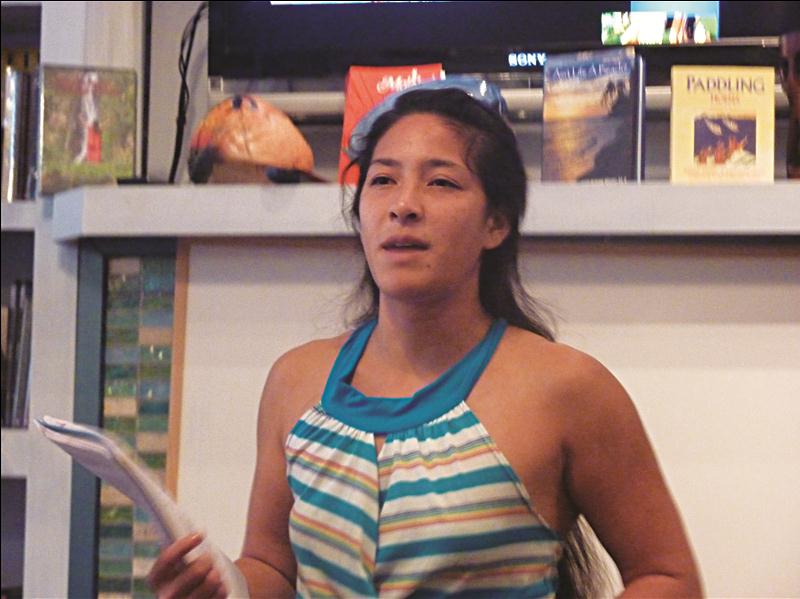 comes in the delivery," Honey Girl said. "If you're trying to get people to feel it, you go soft, if you want people to listen, you go loud."
Slam is a type of poetry common among today's youth that sees performers all over the globe recite their written words in front of a crowd, often with hand gestures and riddled with deep emotion. Essentially, it's poetry that originates on the page and is then brought to the stage.
The nearly two-hour class session brought about 10 participants who wrote – both collectively and individually – a series of slams, which were then recited in front of the group.
The night progressed with nearly everyone taking the stage – hands flailing, intensity growing, tones alternating between whispers and shouts, ideas being pondered and individuals uniting, once strangers and now friends.
"Slam is the combination of creation and expression," Honey Girl said. "It's a great ice breaker and helps with social skills."
Grassroots
Slam poetry first originated on the mainland in November 1984 by Marc Smith, a construction worker-turned-slammer who frequented the Get Me High Lounge in Chicago. In the ensuing years, the slam movement traveled throughout clubs, coffee houses, bookstores and homes, and even prompted national competitions.
In 2003, Hawaii Slam was founded by performance poet Kealoha. Hawaii Slam hosts First Thursdays Poetry Slam at Fresh Café in Honolulu, the largest certified slam poetry venue in the world – boasting more than 600 attendees.
"It's really big with teenagers because many don't have an outlet to speak their mind," Honey Girl said. "This is a way for them to say 'Listen, I have something to say.'"
Honey Girl found her slam niche during her senior year of high school when a teacher suggested she attend a spoken word performance workshop known as "Youth Speaks."
From there, she participated in a few competitions, both individually and collaboratively. Today, she continues to slam and holds workshops among various schools, encouraging anyone who has an opinion to just slam it. She'll be returning to Molokai for more workshops in May.
"I used to be really shy, but it broke me out of my shell," she said. "Poems come from within you. They are a reflection of your perspectives and who you are."
"I'm Home," by Honey Girl Hoe
The wind wasn't subtle
It was a powerful breeze
Billowing over and under, in and out
Caressing-… a welcome home
And the sun demanded attention!
Feeling the heat on my hair
I gazed into the glare
And gave it…recognition.
The ride was curvy and bumpy
Papa doesn't believe in driving within the lines
But that's okay because,
I don't believe in wearing a seat belt.
And I'm ono.
For some Kanemitsu apple crisps
Butter rolls and donut holes
But on Tuesdays they're closed.
The grass was wet.
The rain came from a hand
Attached to a smile, with a hug
And I siad, "hi grandma!"
The pier was still there.
It never changes over the ages
As I lay to give greetings
To my prey under the sea.
7 digits later,
And I've got my own friends to welcome me.
Stories were told.
New jobs, new loves, new tricks
Playing skate over nollie and kick flips
Dreamers. Were all dreamers.
All of a sudden the day is gone
And the fire is steady
Drinks are light but the laughs are heavy
The ukulele is out, the atmosphere is merry,
Nothing can get better than this.
My blanket is still black.
Since grade 3, even though it wasn't bought for me
It's still mine.
So…lights out as I settle into a bed of my own
Sleeping like a baby cuz now I know,
I'm home.