The Nine Sides of Father Damien
Local artist works from afar.
While a picture is known to be worth a thousand words, for some it can also be worth a thousand memories. For her latest mixed media artwork project, Molokai born and raised Paula Mondoy Scott relied on personal experiences from her childhood and plenty of research to create nine original pieces. The works of art represent different aspects of Father Damien and Kalaupapa.
Scott grew up in Kalae, just a few miles from the peninsula, and while she didn't visit until the required age of 16, she was connected to the history-rich settlement from birth. Her father, John Mondoy, would often go down to play music for the patients, and she had some aunties and uncles work at the settlement.
One New Year's Eve, "I was dancing all night with the patients," she said. She also met Richard Marks, who was "instrumental" in patient advocacy.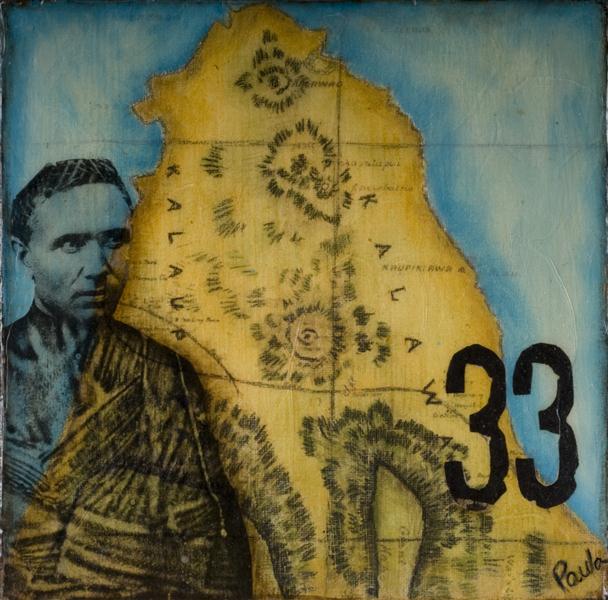 ," she said.
Scott said her key points of inspiration were the children Saint Damien worked with; his advocacy – "even to the point of becoming unpopular with the diocese" – and his work as a healer.
Scott is well-researched in the life of Saint Damien, which led her to know a little about another famous Kalaupapa healer – Mother Marianne Cope. When visiting Hawaii last month for her father's birthday, Scott was in Oahu for the dedication of a Mother Marianne statue.
"I'm getting a nudge from the universe to do a body of work on Mother Mary," Scott said
Scott created a blog many years ago called Molokai Girl, to broaden her audience for her artwork. All her work, including the process of making her Father Damien series, is available at her blog.