New Veterinarian Fills the Gap
Molokai receives visits from Hawaiian vet.
Leianne Lee Loy isn't sure what brought her to Molokai. After working at a clinic in Oahu for the past 12 years – the island she was born and raised on – she heard about the Molokai Humane Society and its constant need for veterinary care.
"I've had Molokai clients fly over, and that got the ball rolling," said Lee Loy, of Hawaiian ancestry, from the Humane Society trailer located east of Elia's Corner along the Maunaloa Highway.
Diving In
Lee Loy jumped right in when she began flying to Molokai in February. Her services range from routine vaccinations, patching up cuts and scrapes, parasite control, skin problems, "a variety of surgical growths," to eye problems.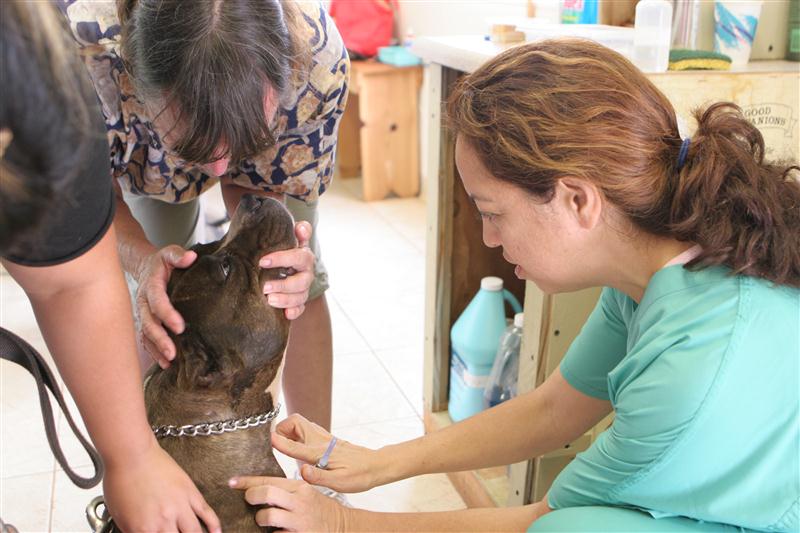 , get the experience and volunteer."
She said she's been bitten and scratched, and yelled at by pet owners – although she doesn't know which is worse.
She received her undergraduate degree from the University of Hawaii at Manoa, and did her post-secondary degree at the University of Missouri – Columbia, where she earned her doctor of veterinary medicine (DVM). After working in Missouri for eight years, she moved back to Oahu, near her parents, and lives with her two dogs and a cat.
"I've been very fortunate in life," Lee Loy said. "I just hope I'm giving back to the community."

Clinic Hours
Tessa Reich is at the Humane Society Clinic from 8 a.m. – 1 p.m. Monday through Friday. She recommends calling first at 558-0000 to make appointments and verify hours.