New Tour and Rental Business
Molokai Ocean Tours and Outdoor Rentals News Release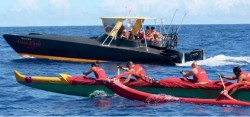 A new store has made its debut at the Molokai Center in Kaunakakai named Molokai Ocean Tours and Outdoor Rentals.  Family- and locally-owned, it is primarily the storefront for the custom-designed tour boat, the Manu Ele`ele, and also cater to visitors' common outdoor rental needs.
The Manu Ele`ele was designed and built on Molokai by the renowned catamaran designer Kirk Clark at Hawaiian Catamaran.  The vessel is uniquely designed for Hawaiian waters and is Coast Guard documented and approved, overseen by the Maritime Consortium with a certificate of compliance ensuring a drug-free captain and crew and each are certified in Heartsaver® First Aid and Adult/Child CPR.  Tours consist of a small, maximum group of six, allowing for an intimate ocean tour experience for seasonal whale watching, Snuba and snorkeling, sunset cultural cruises, sunset weddings, half day fishing, night fishing, torch Lantern fishing and Hawaiian style reef spearfishing.
The outdoor rental gear offered at the store is for visitors and locals alike wanting to enhance their outdoor experiences with beach rentals like surfboards, boogie boards, view boards for kids, beach coolers, chairs, umbrellas and many other fun recreational items and floatation devices.  Camping gear like camping tents, cots, hammocks, BBQs and fishing poles is also offered for visitors exploring beyond the norm on Molokai.
"At the end of the day, we are here to provide a service to visitors to just come up and talk story with us as a resource for any questions they may have while they are here and at the same time educating them about the island and what to do and where to go to enjoy the tours and rental items we provide," said store host Dave Mireles.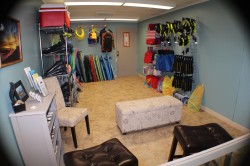 Retail items are also available like Molokai Ocean Tours T-shirts, made on Molokai crafts and the unique island inspired creations, and Tula jewelry featuring earrings and bangles designed by Petrena and Petrisha Alvarez.  Hand-made with only quality sterling silver and 14 kt gold-filled materials, the young jewelry crafters gather real shells and sea glass from Hawaii's shorelines, allowing them to express their passion for the ocean and aloha spirit through their jewelry (tulahawaii.com).
Molokai Ocean Tours and Outdoor Rentals is located above American Savings Bank at 40 Ala Malama Ave. upstairs in Suite 202. The store is open Monday through Friday from 10 a.m. to 4 p.m. and Saturdays from 9 a.m. to 12 noon.  For more information, visit molokaioceantours.com or call 808-553-3290.  Dave is also available at the store during operating hours for walk-ins and inquiries and can be reached at 619-733-6198.