New Ti Leaf Virus
Community Contributed
By Glenn I. Teves, County Extension Agent, UH CTAHR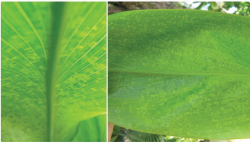 Ti leaf is an important subsistence and commercial crop in Hawaii with diverse uses. An ornamental crop used for hula skirts, leis, and puolo, a bundle or container, Ti plants are also a central part of the tropical landscape with many new leaf sizes and colors. Leaves are used in the preparation of Hawaiian foods, such as laulau with pork and taro leaf, and lawalu, to wrap fish and other seafood and local starches for baking, and also as greens in floral arrangements. It also has ceremonial and medicinal uses, and Ti roots are also used in the production of liquor, okolehao.
Ti leaves used in food preparation are not consumed, but are used as food wrappers due to its ability to provide moisture, tolerate high oven temperatures, and impart a delicious subtle flavor to many Hawaiian dishes. As a result, the appearance of leaves was never a factor in ti production. Blemished leaves that could not be sold for ornamental purposes were sought after by food processors. In 2010, the issue of excessive spotting on ti leaves was raised by a major commercial food processor of laulau, and was no longer acceptable by market standards. Local growers were faced with minimizing leaf blemishes to secure their market share.
Areas with high rainfall and humidity are the best environment for ti leafproduction. Unfortunately these conditions are also ideal for fungal and bacterial pathogens. Three fungal diseases and a bacterial disease are prevalent in ti leaf production, some of which are difficult to control during wet periods. Based on conversations with ti farmers, leaf diseases cause damage from five percent to as high as 50 percent during extended periods of wet weather.
Common Hawaiian green ti plants varieties such as La`i and Kamehameha have been propagated by cuttings for centuries and over this period have accumulated a number of plant viruses. Through island surveys of ti plants and testing at UH, four strains of Cordyline Virus were identified, and are believed to have been in Hawaii for a long time. It appears these viruses do not cause obvious symptoms on ti plants they infect, although it's believed they reduce the overall vigor of the plant.
However, the addition of a new viral disease, Ti Ringspot Virus, is cause for concern because it has increased producers' crop losses. In 2009, growers reported an abnormal ring spotting symptom on ti plants located in windward Oahu. Plants exhibiting ringspot symptoms were collected from a commercial farm on Oahu and brought to UH Manoa for examination. Recently named Ti Ringspot Virus (TiRV) virus, a type of Emaravirus, over 130 samples were collected from 43 sites on five islands, including Molokai. Based on these samples, this virus was confirmed on the islands of Oahu, Maui, and Hawaii Island, but not on Molokai. The virus causes small lighter green blotches on leaves, and is believed to be spread by an eriophyid mite, related to a mite causing brown leathery growths under lychee leaves and also another mite causing misshapen hibiscus leaves.
Increased cultural management of the disease, maintaining quality and consistency of Hawaii grown ti leaves, and minimizing the invasion of introduced ti diseases from abroad through increased ti imports are key strategies in keeping ti plants productive. For more information on ti diseases, visitctahr.hawaii.edu/sustainag/news/articles/V19-KawateEtAl-TiLeafDiseases.pdf.