New Priest for Grace Episcopal
Community Contributed
By Nita Bogart
When Father Robert Walden received his calling to become an Episcopal priest, it was not a subtle nudge.  He had served in the Air Force for 12 years and seemed settled in this career path. He had served in the Pacific, and was at Hickham Air force base in Hawaii, when one day, he had to go to Tripler Hospital to get medicine for his wife's heart condition. While there, he paid a visit to a friend who was a patient.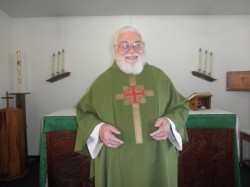 The visit had a powerful impact on him, and left him with an inspiration to become a priest. He then called his parish priest to share his sense of calling. His priest was not at all surprised: "Well, it's about time! I've known for six months; I just wondered when you would recognize it." There was no doubt that this was the path God intended for him to take. And fortunately for those of us at Grace Episcopal Church, this path eventually brought him to Molokai last December to be our priest, almost 40 years later.
He left the military in his mid-thirties and entered seminary in California, then came to Hawaii, where he was ordained in 1977. Father Bob went on to became an assistant at Holy Nativity in Aina Haina in Honolulu, and was the Rector at All Saints' on Kauai for 20 years, then spent six years in Okinawa where he helped with programs for patients with Hansen's disease, (a connection that made Molokai meaningful to him).
He retired from there, then served as a visiting priest at a church in Holbrook, Arizona, where he worked with Native American Navajo parishioners. Then he returned to Hawaii in 2006 where he has served as visiting priest at many Hawaii churches, including Grace Episcopal Church on Molokai. There was a definite feeling of "rightness" about becoming our interim priest here. The feeling of comfort was mutual for both Father Bob and the congregation at Grace Episcopal Church. A lover of rainbows, Father Bob was greeted by a beautiful rainbow when he stepped out of church during his first visit here. That confirmed his accepting the call to serve here.
Twice married and widowed, he has a son and three daughters, two grandchildren and a dog, Makamai.  Prior to moving here, he lived with his son and grandchildren in Honolulu. Now settled into the vicarage near the church, Father Bob and Makamai warmly welcome visitors to attend morning prayer time daily at 9 a.m. at Grace Church and Sunday Services at 10 a.m.
The church is open daily from 9 a.m. to 5 p.m. for silent, individual worship time. Since Anglicans and Lutherans are "sister" faiths, attending Grace may also be a viable choice for individuals raised in those denominations.