New Plane is Almost Here
By Catherine Cluett Pactol | Editor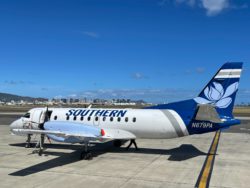 A larger plane is on its way to expand Mokulele's fleet for Molokai passengers. The first of two twin turboprop aircraft, the 30-seat Saab 340, arrived in Hawaii last week. The new plane, being flown under Mokulele's parent company, Southern Airways, may be making its first landings on Molokai as soon as next week, Richard Schuman, Mokulele's executive vice president, shared on social media. But that will be during a training phase — tickets are expected to be available starting at the end of the month.
The plane, brought on board by the company specifically to serve Molokai, will more easily accommodate wheelchair-bound residents and passengers of size. It will be flying routes between Molokai, Honolulu and Lanai.
Tickets are expected to be available at comparable prices to current fares.
"More seats and capacity will allow us to have more lower fares in the market!" the airline shared on social media last week.
A second plane of the same model is in progress to join the fleet later this year.