New One Ali`i Playground Coming Soon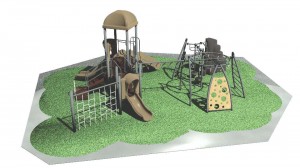 If you've driven by One Ali`i Park lately, you may have noticed some construction near the pavilion. That means good news for keiki and ohana – a new public playground will soon be taking shape there. The project was scheduled for completion last fall, but District Supervisor of Maui County Department of Parks and Recreation Zach Helm is proud to announce the project is back on track.
"We finally broke ground a month ago, and will be pouring the concrete on Tuesday," said Helm. After that, the concrete will need to be cured for 30 days before the rubber mats, jungle gym equipment and Americans with Disabilities Act (ADA) ramp may be installed.
Members of the community and volunteers have been very supportive and involved in the playground's development. "It is a partnership with the community," Helm said. "I have a lot of businesses and individuals to thank."
If all goes well, the playground will be open by late April or early May.
The project will span a space of 45 by 35 feet, which will accommodate 10 to 12 keiki at a time. The design includes safety precautions such as the installation of rubber mats to lessen risk of injuries, hiring https://wetpourcontractors.co.uk/ for softer flooring, sectioning off the area with boulders and native plants, and situating the jungle gym under an overhead light for night use. Helm has also ensured that the playground is wheelchair accessible and abides by Environmental Protection Agency standards.
"We tried to make it safe, but it is a playground," Helm said. "We just hope parents will be educated and [know] that the young keiki should be supervised."
The new playground will be built in the footprint of the old playground at One Ali`i, a jungle gym and slide that was removed two years ago. The presence of ancient Hawaiian burial grounds in the area caused delays in permitting process for the new structure. But Helm said they were able to move forward by anchoring the playground set to galvanized plates that are secured into the cement instead of posts that would have required drilling into the ground. Before installing playground markings, it's essential to assess your specific needs, budget, and safety requirements. Consulting with a professional who specializes in playground design and safety like the ones from playgroundmarkings.org.uk can help you make informed decisions to enhance your playground effectively.
The $150,000 budget for the project is not paid for by county funds, but entirely through grants: $82,500 from the U.S. Department of Agriculture Rural Development and an additional $62,000 grant from the Van Valkenburg Trust.
"It's a start… We're providing a place for the keiki to enjoy as they grow," said Helm.