New Mobile Provider
Cricket Wireless Molokai News Release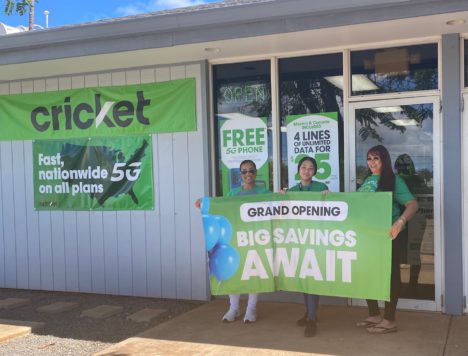 What's all the buzz about Cricket Wireless? It's a new business on Molokai that opened its door on Jan. 7. We offer cellular services utilizing the AT&T network with affordable monthly plans. There are no contracts or credit checks. The best part about Cricket Wireless is that you don't have to wait for shipping of any cell phone or accessories because we have lots in stock.
Here are some of this month's specials when porting in from your current carrier: $50 instant credit added to your account; 10 different free phones to choose from; get an iPhone 11 for $99; get an iPhone SE for $49.
Come in and ask any associate how you can qualify to get up to $60 off your monthly plan. We're located in the same shopping center at Pizza Café. Call us at (808) 553-5050 or email cricketmolokai@yahoo.com.