New Management for Hotel Molokai Restaurant and Bar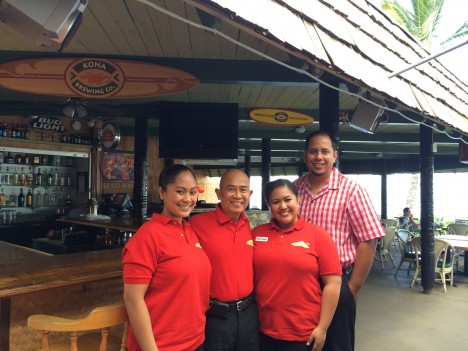 Almost two years after the kitchen at Hotel Molokai was burned in a devastating fire, the restaurant and bar is seeking a fresh start with new management, and reconstruction is anticipated to begin next month.
Tante's Island Cuisine, a family-operated restaurant on Maui, took over management of the former Hula Shores Bar on April 15, in partnership with a Molokai family. Owner Tante Urban said with a motto of "good service, good food and good price," he looks forward to serving hotel guests and locals alike.
Husband and wife Clint and Starlet Luczon Joao and Starlet's sister Natalie Luczon are assisting with management of the bar and restaurant, now known as Tante's at Hotel Molokai. Starlet called the new arrangement "a family affair," and the three said they are happy for this opportunity to return home after living off-island.
"I'm excited about this partnership," said Hotel Molokai General Manager Michael Drew. "It is a great fit for what I've tried to build here. I expect nothing but success for both Tante's and the community that we both love."
Construction Coming Soon
After many delays in the rebuilding of the kitchen after the 2012 fire, Drew said some revisions to the original design have been made and submitted to Maui County for review. He said he hopes construction will start by June 1, and anticipates completion will take about eight months.
He said patrons will notice no major changes to the layout or location of the dining room and bar, though the bar area will be completed refurbished.
In the meantime, the bar continues to be open daily from 4 to 10 p.m., with a bar-side grill menu offered Monday, Wednesday and Friday from 4 to 8 p.m. Starlet — whose management duties focus on public relations, marketing and event coordination — said they will be adding food and drink specials in the coming weeks.
Starlet said they have retained the employees who worked at Hula Shores Bar, with the addition of rehiring a former employee.
Urban said once the kitchen reopens, they will be working with a placement firm Salt Lake City to hire 25 to 35 local staff for the dining services.
Clint added that even though they are not ready to begin hiring yet, interested applicants can stop by the front office to pick up an application and get started with the interview process.
Tante's — A History of Success
Tante's Island Cuisine, run by Urban and his wife Telly, got its start on Hawaii Island nearly 30 years ago at the Kona Seaside Hotel. About a year and a half ago, the operation moved to the Maui Seaside Hotel, according to Urban.
When he heard that the "best restaurant in town" was in the process of being rebuilt, Urban contacted Hotel Molokai's Beachtree Properties management and got in touch with Drew.
With two other candidates interested in managing the restaurant, Urban said they "got lucky" with being awarded the management contract.
"Tante stood out as the leading candidate due to his commitment to service and working with the community," said Drew. "They will bring consistency, will raise the level of service and definitely will serve the community in something they love — local food."
Urban said the menu at Hotel Molokai will be similar to Tante's on Maui — a fusion of local, Filipino, Asian, seafood, steak and continental dishes. He said he plans to work with Molokai food producers, farmers and fishermen to feature local ingredients as much as possible.
Molokai food producers interested in supplying the restaurant can contact Clint, who will handle inventory and accounting, at (808) 250-6076, or Urban at (808) 640-0193.
Family Homecoming
For Starlet, Clint and Natalie, management of Tante's at Hotel Molokai has afforded them the opportunity to return home to Molokai. Starlet and Clint had been living on Maui for the past three years, where Starlet worked as a server at Tante's, and Clint provided Tante's guests with regular music and entertainment. Natalie was living on Oahu for the last eight years, working as a server at a Waikiki restaurant.
Natalie — who will serve as the dining and bar manager — is especially excited to continue and foster the world-renowned Kupuna Night at Hotel Molokai every Friday evening from 4 to 6 p.m.
"This is the kind of environment [on Molokai] I wanted to work in," said Natalie. "As a hula dancer, I love Hawaiian music… working in Waikiki, it's so commercialized. Here, there's genuine Hawaiian music and a breathtaking view."
Starlet said she looks forward to hosting community events, parties, hula, concerts, and most of all, "sharing the underground talents on Molokai." She asks local entertainers "ages 0 to 100" to contact her if they'd like to fill Hotel Molokai's intimate stage.
In the meantime, Urban said he's grateful to Drew and Beachtree for giving them this opportunity, and the trio is thrilled to be a part of the operation.
"We're happy to be home," said Starlet. "We always wanted to come back and serve the community here. We're thankful to be given the opportunity to do that. It's a great, new start for us and be together again."