New Land-Ocean Connections Discovered Off Molokai
The close connection between land and sea is nothing new for Molokai locals. But researchers have taken that connection a step farther and made a groundbreaking discovery along the coast of Molokai: they found that in two submarine canyons off the north shore of the island, ocean animals are relying heavily on resources from the land.
Fabio De Leo, a PhD candidate at University of Hawaii, Manoa Department of Oceanography, and a team of colleagues spent about three weeks a few miles out from Molokai's north shore. They found that plant material from the forested landscapes of the shoreline, such as decomposing tree trunks, leaves and kukui nuts, feeds a high abundance of invertebrates, like worms, tiny crustaceans and mollusks. These in turn serve as food for larger species, said De Leo.
The plant material piles up in the underwater canyons that connect to the deep river valleys on the north shore.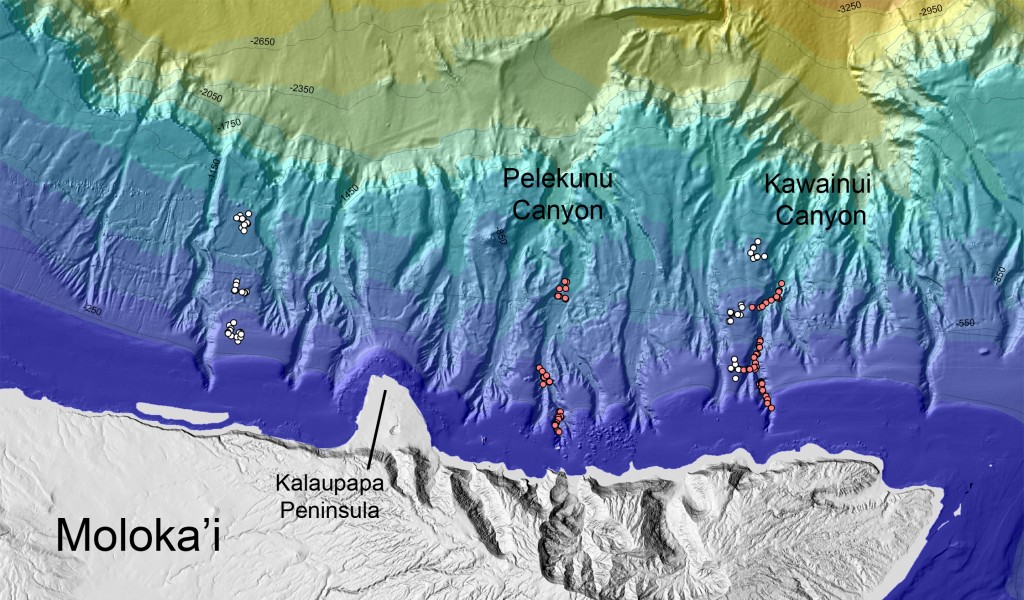 "Areas surveyed outside the canyons showed very little…plant…material, providing support for our hypothesis that this material is really being channeled and accumulates mostly in the steep topography of the submarine canyons (i.e., a 'canyon effect')," said De Leo.
De Leo and his colleagues from the School of Ocean and Earth Science and Technology at UH Manoa used manned submersibles operated by the Hawaii Undersea Research Laboratory to take video in two submarine canyons off Molokai at depths ranging from 350 to 1,050 meters, or about 1,000 to 3,000 feet. This was among the first studies to quantitatively survey fish deeper than about 350 meters around Hawaii, gathering more than 13 hours of video altogether. Among the most abundant species De Leo and his team found were the so-called "rattail" fish (family Macrouridae) and the "eel-like" fish (synaphobranchids and halosaurs).
Giant sharks were also observed but only when the submersible was stationary. De Leo narrates how scary it was when he got "face–to-face" with a 10-foot "sixgill shark" with only the submersible's porthole separating his from the shark's nose, as the giant approached the submersible and hit the thick glass window with its face.
"Wow, it was definitely a nerve-wracking sensation," he said. "I even dropped my video camera while trying to make good footage of the beast."
Researchers also reported some unexpected results. They found that the "canyon effect" of fish abundances is obliterated at depths around 650 meters, coinciding exactly with the core of an oxygen minimum zone (OMZ) that flows around the Hawaiian archipelago at those depths. An OMZ is a layer of seawater that has depleted oxygen concentrations due to several biological and chemical processes. De Leo said expansion of the OMZ is concerning to scientists because it is thought to be associated with climate change and oceanic warming.
OMZ expansion is mild in Hawaii compared to the west coast of the mainland, and De Leo said it's nothing to be concerned about in this region. But OMZ was a main topic of conversation at the Ocean Sciences Meeting in Salt Lake City, Utah, which De Leo attended last week.
De Leo's Molokai research was done on Molokai back in 2006, and results from the data were recently released. De Leo and his colleagues will continue to analyze data from six other submarine canyons they studied around Hawaii in hopes of understanding what other factors lead to an increase in numbers and diversity of marine animals inside these topographical features.
This research was supported by NOAA Ocean Exploration and by the Hawaii Undersea Research Laboratory.
University of Hawaii contributed information for this article.