New Kalaniana'ole Hall Opens its Doors
Renovations celebrated by official blessing.
Upon completion of Kalaniana'ole Hall's restoration efforts, several Molokai community members gathered to witness its blessing on Tuesday, Feb. 9 in Kalama'ula.
Plans to renovate the historic building were first brought forth in 2003. The organization Friends of Kalaniana'ole immediately jumped on board with financial support, mustering grants from the Office of Hawaiian Affairs (OHA) and the Molokai Enterprise Community (EC), as well as help from the Department of Hawaiian Home Lands (DHHL), United States Department of Agriculture (USDA) Rural Development, Lokahi Pacific and other groups.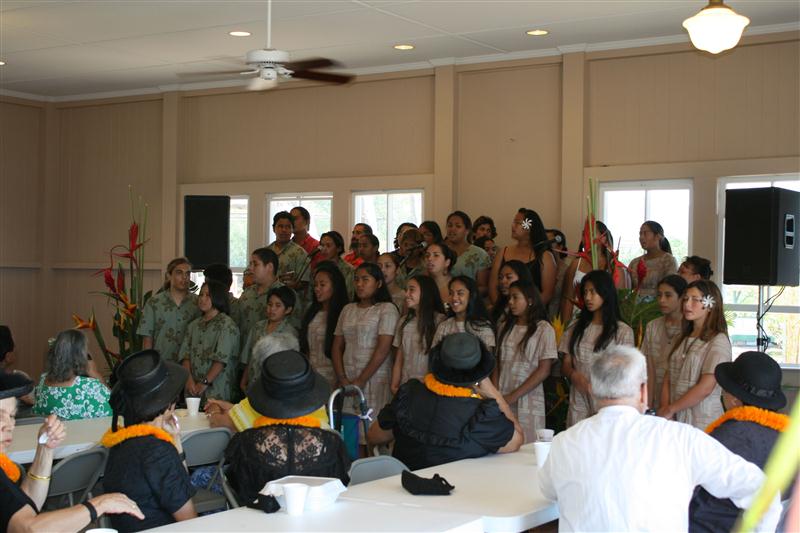 is going to be used for meetings and funerals," Venenciano said. "It's what it was used for in the past, so we need to stay close to that and retain that value."
Originally, the historic Kalaniana'ole Hall, built in 1937, was used for funeral services, overnight vigils and 'ohana viewings, as well as parties, weddings, hula contests and weekend movies. In 2003 its significant history was addressed when the state recognized the hall in the Hawaii Register of Historic Places.
Since its opening, the hall has already been used a few times by the community. On Jan. 7, Kalaniana'ole Hall was used by the USDA Rural Development during its roundtable discussion with Molokai residents regarding the economy. Stacy Crivello, a member of the EC Governance Board, said in a statement that it was appropriate for the USDA to utilize the hall because of its contributions to the renovation.
As for its future, Venenciano sees it as a refreshing continuation of a historical entity.
"It is a celebration of our history," he said.
Special Mahalo To:

Ke Aupuni Lokahi Board of Directors and Staff; Hale O Na Ali'i O Hawaii Halau O Kawananakoa; Board of Trustees, Office of Hawaiian Affairs; Mr. Albert Tiberi, Office of Hawaiian Affairs; Mr. William Akutagawa, Friends of Kalaniana'ole; Mr. Hardy Spoehr, Community Development Pacific; Mr. Glenn Mason, Mason Architects; Mr. Lester Delos Reyes, Hawaii National Guard; Ms. Kamaile Sombelon, Lokahi Pacific; Mr. Fred Bailey and Sons Electric, Contractor; Mr. Sandy Stein, Contractor; Ms. Irene Lam, USDA Rural Development; Mr. Darrel Yagodich, DHHL, Planning Department; Mr. George Maioho, Mr. Larry Sagario and DHHL Staff; Mr. Steven Arce, COM, Public Works; Mr. Peter Nicholas, Molokai Properties Ltd., Mr. Adolph Helm, Mycrogen Seed Company; Order of Kamehameha, Maui Chapter; Kalama'ula Homestead Association; Mr. Richard & Mrs. Kanani Negrillo & O'hana; Mr. Henry & Mrs. Rose-Allen Paleka; Mr. Brent Davis, Davis & Sons; and Mr. Dolphin Pawn, Akamai Tree Trimming.