New Flight Service, Old-Fashioned Style
A new flight service is landing on Molokai, bringing in a small business attitude that has already proven successful in Kalaupapa. Makani Kai Air is offering five flights daily to Honolulu and back, which began June 8, while keeping its twice daily Kalaupapa flights.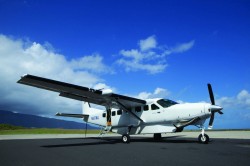 The decision to expand its service came after an agreement to provide aircraft and staff to Mokulele Airlines fell through, said Makani Kai President Richard Schuman. He said he was not going to lay off his employees, so he found a way to keep everyone working while providing flights to an area receiving decreased air service.
"I read the paper where Island Air was backing off its runs and Pacific Wings announced its departure," Schuman said. "I decided since I serve Kalaupapa so well, I wanted to specialize in Molokai only."
With its small flight size – nine-passenger Caravan aircraft – and local attitude, Makani Kai is aiming to bring back similar service as the Molokai Air Shuttle offered years ago, according to Schuman. Makani Kai customers will be able to skip security screening and board with whatever items they may have with them.
"If they have a case of beer in one hand and their dog in the other, they can just get on the plane and leave," Schuman said. He added that because they are located away from the main terminals at  the Honolulu Airport, families and friends can greet one another right on the tarmac. "If you landed at our facility, and Tutu came out, the child waiting at the fence could run up to her and greet her as she got off the plane."
He said that with their Kalaupapa service, they have held flights for people who called saying they were caught in traffic or running behind. This is the business attitude he wants to continue with topside Molokai services.
Gloria Marks, who owns Damien Tours in Kalaupapa, said she has been pleased with Makani Kai service there. Before Makani Kai began offering subsidized flights to Kalaupapa in 2011, Pacific Wings provided the settlement's only air service at $500 per round trip between Kalaupapa and topside Molokai or Honolulu.
"Makani Kai comes for late flights on Fridays for workers who leave then," Marks said. "Pacific Wings used to leave at 2:30… Now workers don't have to knock off time or take vacation."
Their first flight departs Honolulu at 6:50 a.m. and the last leaves Molokai at 3:30 p.m. The complete schedule is available at MakaniKaiAir.com Online booking will soon be available at a lower cost, but until then, reservations are available by calling (808) 834-1111.
Schuman said prices probably will not be as cheap as other airlines that are able to carry 80 or 100 passengers in one flight, but they will be competitive. However, he added that the personalized service and easy, reliable flights will outweigh the slight cost increase.
"It's really the old-style way, and that's what I enjoy about what I do," Schuman said. A veteran of the transportation business, Schuman grew up on Oahu, where he operates the airlines out of an office where aunties and uncles come in to talk story. His grandmother lived on Molokai, and he has family connections on the island. Now, his airline is dedicated to Molokai residents and their traveling needs.
"If there are people going back and forth from Oahu, they're the ones that will really benefit from our service," he said. "I don't know anything about the tourist base."
Schuman also said Makani Kai keeps one aircraft and pilot on standby in case one of their planes experiences mechanical problems or any kind of delay. In addition to their two Cessna Grand Caravan aircraft, Makani Kai also operates charter flights and helicopter tours from Oahu.
Schuman said he encourages prospective customers to try the airlines once, just like they would try a new restaurant in town. He is confident customers would enjoy their small-business style service.
"The small little restaurant in the corner of Kaunakakai does okay," he said. "The mom and pops have their clientele and survive, and that's where we'll be."