New Fire Engine, Promotions
A shiny new fire engine, made specifically to fit Molokai's needs, has joined the fleet at the Kaunakakai Fire Station. Engine 4 features an extra-large water tank – holding 1000 gallons, about 250 more than average – to efficiently fight fires on Molokai, where there aren't many water sources, according to Maui County Fire Chief Jeff Murray. It also incorporates state-of-the-art equipment, the design of which was overseen by Molokai firefighters during manufacturing.
"If you think I'm slightly jealous, I am," said former firefighter Rev. Reynolds Ayau, during the engine's blessing last week. "You have equipment we only dreamt of."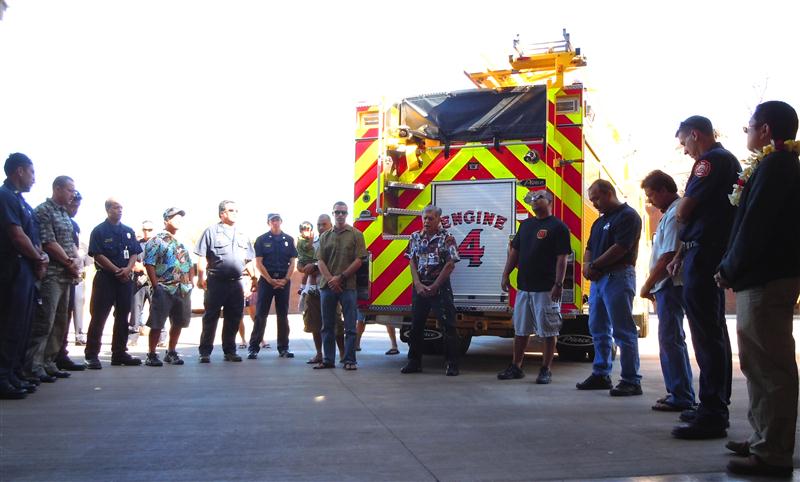 The new engine will be added to the three trucks at the Kaunakakai station, allowing an older engine to be retired and used as back-up.
"This should give up to 10 to 15 years of awesome service to the community," said Murray before the blessing. "These are just tools for you," he told firefighters, adding that without a skilled team working on the engine, it's nothing.
"We're the only fire department that responds with a mechanic because trucks always break down," joked Ayau.
Captain Travis Tancayo said the engine features a lot of specialized equipment that, with the help of carefully-designed storage, allows firefighters to carry it all on the engine, without the additional storage of a separate truck.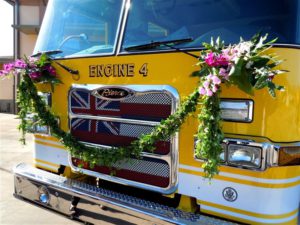 The front of the engine is adorned with a Hawaiian flag painted on the grill, which Tancayo said makes it the only fire engine in Hawaii to have this feature. During the engine's manufacturing, Tancayo traveled to the Pierce factory to assist in the truck's design. He said he saw mainland-bound trucks with U.S. flags on the front, and asked if a Hawaiian flag could be added to the Molokai engine. Tancayo said it was hand-painted by an artist.
Murray said it took about three and a half years to get the new engine completed. The project was funded through the Community Development Block Grant (CDBG), a federal program through the Dept. of Housing and Development, said Anthony Arakaki, Maui County CDBG program manager. The grant is available to low- and mid-income areas, such as Molokai.
Engine 4 is named "Kia`i O Hina," which means to guard, watch over and protect the aina and community of Molokai, said Lori-Lei Rawlins, who chose the name and explained its meaning at the blessing.
Molokai Promotions
Two firefighters on Molokai were recently promoted to Firefighter III. Larry Rawlins was born and raised on Molokai, and began his career in the Fire Department in 1991, first serving in Kahului. Within a year, he transferred to the Ho`olehua station, then to Kaunakakai. Now as Firefighter III, Rawlins said he has more responsibly and leadership at the station as second in command to the captain during each watch.
"I feel blessed and honored to get this position," he said. "I will serve the community to the best of my abilities."
Zachary Crowder is a second recently-promoted Firefighter III on Molokai stationed in Ho`olehua. Originally from Kaneohe, he said he's been serving on Molokai ever since joining the Department 10 years ago.
Crowder said Molokai's slower speed suits him. He added that he has no immediate family here but that "everybody took care of me."