New Artist in Residence
MAC News Release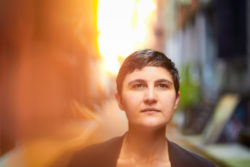 The Molokai Arts Center (MAC) Artist in Residence (AIR) program is back! Two years ago, poet and prose writer Frances McCue's two-week residency turned into months as the pandemic hit, quarantine was ordered and travel became restricted. We are pleased to once again be able to provide visiting artists with a respite from daily responsibilities to enable them to concentrate on their work. Musician and composer Anne Leilehua Lanzilotti will be on Molokai from April 25 to May 6 to work on two commissioned projects — one for solo oboe and another for a violin and viola duo.
Anne Leilehua Lanzilotti is a Kanaka Maoli musician dedicated to the arts of our time. Called a "leading composer-performer" by The New York Times, Lanzilotti is the recipient of a 2020 Native Launchpad Artist Award. Her "conceptually potent" compositions often deal with unique instrument objects, such as The Noguchi Museum commissions involving sound sculptures.
"Lanzilotti's score brings us together across the world in remembrance, through the commitment of shared sonic gestures," stated international platform Cities and Health.
She has been featured internationally on the Dots+Loops series and Sound School series in Australia (The Substation), and a guest composer at Thailand International Composers Festival. Lanzilotti's current commissions include a new work for the [Switch~ Ensemble], the development and performance of which is supported by a project grant from the MAP Fund; and a new work for the GRAMMY-winning ensemble Roomful of Teeth supported in part by the National Science Foundation. Lanzilotti was recently awarded an OPERA America Women Composers: Discovery Grant which will specifically be used towards developing a new opera about Queen Lili'uokalani. Visit leilehualanzilotti.com for more info.
The MAC is a nonprofit arts education program. To learn more about MAC's competitive AIR program, visit molokaiartscenter.org/artist-in-residence.