Nearly Pau With SUP Series
Community Contributed
By Clare Seeger Mawae
Race five was held on April 30 and the forecast was calling for light and variable winds. How wrong that was, with steady trades hitting Kamalo during registration. Keala Freemon once again brought another victory to his name with a time of 1 hour, 40 minutes, leading the points in the long course. Raleigh Poepoe came in second, a minute behind Keala, and Jesseca Oswald took third place overall and women's first place with a time of 1:49.

One hour later the kids and our off-island visitor Christian Isaacs and his son Noa started the short course. 11-year-old Kaydence Oswald shot off into the lead and took a convincing win in a time of 53:29. Christian and Noa Isaacs paddled in the tandem/family fun division with a time of 54:50, which has now become increasingly popular with parents and children. 11-year-old Luhi Pedro took second overall in a time of 57:35, and 8-year-old Alex Mawae took third place with 1:00.37.

As the short course was on its way, excitement was happening down the road with some new kids entering the race at Ali`i Fishpond. Slater Oswald chaperoned Reeve and Naavah Albino, and Reeve came in with a credible time of 21:37 for the one-mile course and sister Naavah in 21:57. Hats go off to Slater for being such a good chaperone since he was the second of the Youth in Motion kids to fracture his wrist this year, and could not race.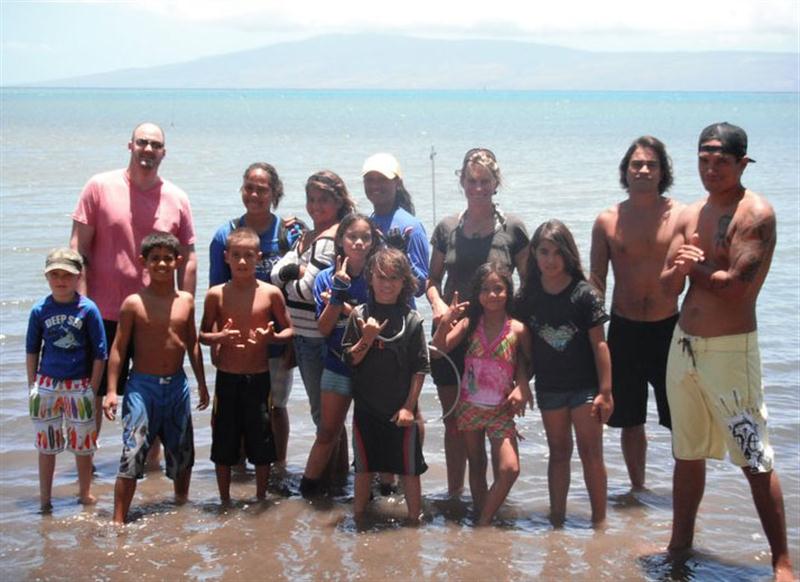 This was another excellent day of the race series of Makani Ikaika O Molokai. Anything can happen at the grand finale with the Molokai Holokai on May 28, hosted by Molokai Ohana Surf Club. The short course (3.5 miles) is finished, and the unofficial results show Kaydence Oswald in the lead, Alex Mawae in second, and Kekai Adachi in third place.

This has been quite an incredible series for the kids and we encourage that more family and youth sign up for next year. From the beginning of the year, these kids were so scared to go out to the reef and as the season ends, their confidence levels have risen, and ready to take on the deep blue. We also found a new category and division, the tandem racing with one adult and one child, which has been a good way to encourage the younger ones to get out on the ocean.

For more information for next year's race series, the youth training program, register with the organization, volunteer, or donate, please got to www.supmolokai.org or contact Clare Seeger Mawae at 336-0946, email clare@youthinmotion.org.