Navigating Patience
Hospital awarded for cancer program.
Two local residents have received high honors from the American Cancer Society for their work with cancer patients on Molokai. Avette Ponce and Haunani Kamakana were given the nation-wide Harold P. Freeman Service Award last week. The two have been involved in the Kukui Ahi (Show the Way) cancer navigation program at Molokai General Hospital since its inception in 2006. They spend their days helping their patients through screening processes and other treatments.
"I wasn't sure what I was getting into when I first started this program," Kamakana said. "But it's very rewarding and I love it."
The award is given out each year to recognize strong efforts in cancer safety. Molokai General Hospital was one of two hospitals in Hawaii recognized for the award, along with Queen's Hospital. Hawaii is included in the High Plains division of the American Cancer Society, which also includes Guam, Nebraska, Oklahoma, Kansas, Texas and Missouri.
Harold P. Freeman is a past president of the American Cancer Society. Through his presidency, he devoted a lot of his time to cancer prevention and continues to be a strong advocate for underserved communities and populations with disparities.
American Cancer Society Chief Staff Officer Jackie Young came to Molokai last Thursday to present the award and say "thank you" for their efforts.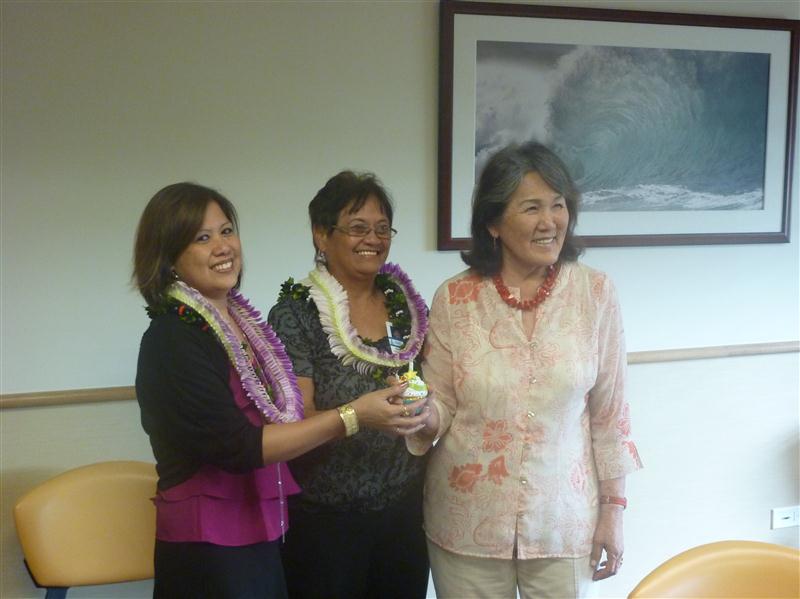 for where to go next," she said. "You guys have made a lot of changes in this community."
Through working for Molokai General Hospital's program, Kamakana said she and Ponce have traveled for training, and were able to meet Harold P. Freeman while in New York City.
"I'm just overwhelmed," Ponce said. "I really love my job. It's very rewarding. Sometimes patients don't want to do the screening, but it's really important for them."
To qualify for the award, projects must be directed toward achieving cancer prevention, early detection and support for people who face cancer. Funding for projects must not be derived from tobacco-related companies or funds, according to the Harold P. Freeman Service Award application.
Doctors, nurses and the Molokai General Hospital president, Janice Kalanihuia attended the event.
"They really care about people. You can't pay someone to work like that," Kalanihuia said. "It's in your heart and I think that's 75 percent of the success in this program."