The Nature Conservancy Goes Solar
TNC News Release
The Nature Conservancy's Molokai office is sporting a new look – a large rooftop photovoltaic system that will significantly reduce energy costs while providing enough power to meet the office's electricity needs for years.

"We were able to basically cover all of our energy needs and put a cap on our energy costs into the future," said Suzanne Case, the Conservancy's Hawaii executive director. "It's good for Hawaii both economically and in terms of sustainability."
The 8.88-kilowatt photovoltaic array was installed by Maui's Rising Sun Solar at the Conservancy office in the Molokai Industrial Park on the hot leeward side of the island. The PV system, which cost $69,596, will use solar energy to power lights, electronics, air conditioning and other office needs.
"Tapping into the clean, renewable energy resources that Hawaii has in such abundance holds tremendous potential for Molokai, which has one of the highest electrical rates in the nation," said Matias Besasso, a partner with Rising Sun Solar. "Not only can it reduce costs, but it can lead to job creation and greater energy independence and self-sufficiency for Molokai's people."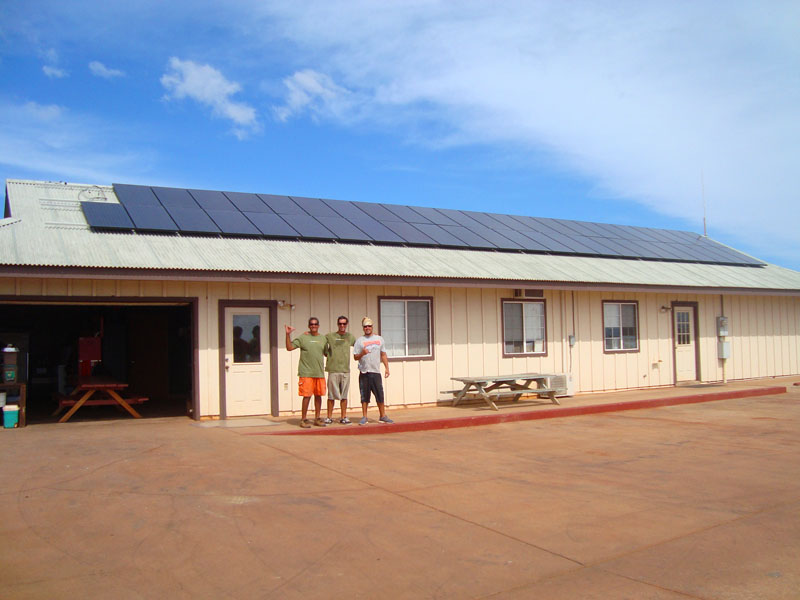 The estimated cost of generated power over 12 years is $53,572, compared to $109,295.32 with regular utility power.
Ed Misaki, the Conservancy's Molokai director, said installation of the new system has been in the works for three years. "Going green is one of our big goals," he added, noting that the new array will be hooked up and dedicated on Dec. 1, 2010.
Misaki said the Conservancy's Molokai office will remain connected to Maui Electric's grid under a Net Energy Metering contract, so that electricity is still available to the office on cloudy days, while excess power can be sold to the utility on days when office power use is low.
After twelve years, the Conservancy will have the option of negotiating a new contract or purchasing the system at fair market value.
"It's a win-win for us," said Conservancy Director of Internal Affairs Rico Gomez. The Nature Conservancy on Molokai has been paying about 41 cents per kilowatt-hour, and under the new arrangement initially will pay 30 cents, he said.
"Every single one of us has to do what we can to reduce our use of fossil fuels – to try to put a limit on global warming, which poses a serious threat to nature and people," Case said.