Native Calls
Keeping track of Molokai's rainforest birds.
Billowing mist drifts through moss-hung branches, and the air – cold and fresh – slips past your face like ghost fingers. It's 7 a.m. and the rainforest oozes with life – from the imperceptible movement of a myriad bugs to the morning chatter of birds echoing through the forest canopy. It's those birds that have brought experts from around the state to the Molokai Forest Preserve for a study that could determine future management tactics for Hawaii's forests that are home to native species.
Sam Aruch cocks his head, listening to each bird call. His trained ears decipher and identify every whistle in the cacophony of chatter as he scribbles in a mist-moistened field notebook. He records what species he hears, as well as location and weather conditions.
Around the state, bird experts team up with local volunteers to study bird populations in conservation areas. Aruch works in resource management and was contracted by the Department of Land and Natural Resources Division of Forestry and Wildlife (DOFAW) to organize this year's bird surveys.
The surveys, conducted in rotation around the state every fives years, serve as an assessment of current management of native bird habitats. They are also an important tool to help guide future management decisions, according to David Leonard, a wildlife biologist for DOFAW in charge of endangered forest bird programs.

Sipping the Nectar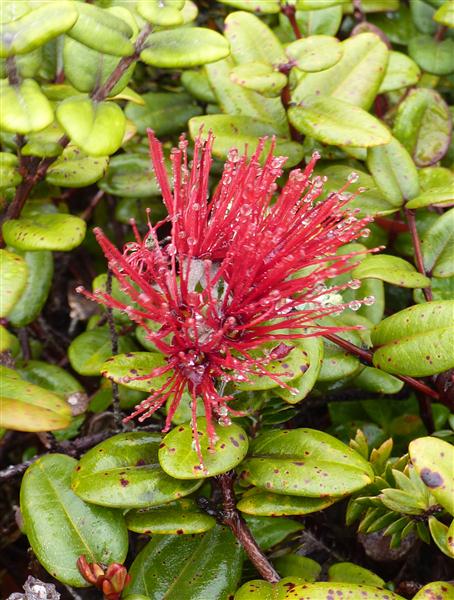 The area covered in about three days during the Molokai study is 10 square kilometers or about 2500 acres, according to Camp. The first Molokai survey was completed in 1979 and the last was done in 2004.
"Doing these surveys is always a challenge," said Leonard. Working with the weather is the biggest hurdle in getting it done, he added.
Too much wind or rain can inhibit the ability to hear bird song. Transects also have to be completed in the morning hours, when birds are more vocal. In addition, proper completion of the surveys relies on close coordination between many agencies, as well as volunteers to make it happen.
Despite the challenges, a dedicated crew completed this year's Molokai forest bird survey without a hitch. The data will contribute to a pool of information to model trends of native and non-native species around the state. And if all goes well, the `apanape will continue to sip `ohia nectar in the mist-shrouded upper reaches of the island for years to come.
Organizers of the Molokai forest bird survey would like to recognize the following organization: Kamehameha Schools and Kapualei Ranch for land access; staff from TNC Molokai, Maui Forest Bird Recovery Project, Kalaupapa National Historical Park, Molokai Plant Extinction Prevention Program (MoPEP), MoMISC, DOFAW, NARS, Molokai Land Trust, USGS-BRD and Wiliwili Native Plants; and Windward Aviation for helicopter use.