National Feral Cat Day 2011
The Molokai Humane Society (MoHS) honored National Feral Cat Day (NFCD) Oct. 16, and will continue to do so throughout the year. NFCD is intended to create "compassion for cats coast to coast" through organizations in all 50 states that are committed to reminding people that Trap-Neuter-Return (TNR) and other humane programs for feral cats are in the best interest of the cats and the community.
"Feral cats are members of the domestic cat species, but are not socialized to humans and therefore they cannot be adopted into homes. They typically live outdoors in family groups called colonies," said Jenn Whitted, MoHS executive director. "Trap-Neuter-Return is an effective and humane way to stabilize the feral cat populations, because it ends the breeding cycle and stops behaviors associated with mating."
NFCD was launched in 2001 by Alley Cat Allies, the national advocate for feral and stray cats and a recognized authority on TNR, a program in which cats who live outdoors are humanely trapped and brought to a veterinarian to be evaluated, spayed or neutered and vaccinated. While under anesthesia a small notch is made in the ear for identification; this procedure is known as ear clipping. Friendly cats and kittens are made available for adoption.
"We applaud the Molokai Humane Society for its work to educate their neighbors about the benefits of programs that rely on Trap-Neuter-Return and the use of humane deterrents to ensure that people and outdoor cats get along peacefully," said Becky Robinson, president of Alley Cat Allies.
Help Molokai get its feral cat population under control by participating in the MoHS low cost spay and neuter program, which provides spay or neuters to cats for only $20 each. We also offer a billing option for people who are unable to pay at the time of service. Call to make an appointment to bring in your neighborhood feral cats today!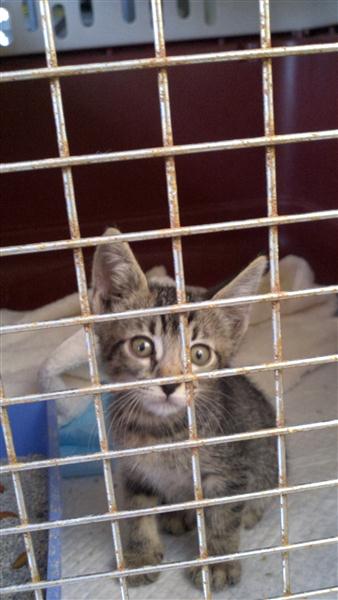 Left is a picture of "Lucky." He was found in a wall in Kaunakakai and has since been neutered and vaccinated. Lucky is looking for his forever home, if you are interested in adopting Lucky or any of the other cats currently in foster homes, please give us a call. We are also looking for people who are interested in fostering animals until they are adopted.
For more information about National Feral Cat day, see alleycat.org/NFCD.
For more information about MoHS, visit molokaihumanesociety.org and keep an eye out as we begin to develop an organized TNR program for the island in the first part of 2012. We will be looking for volunteers to manage the various colonies around the island. For more information, call us at 558-0000 or email us at molokaihumanesociety@gmail.com.