Nancy Shizuko Yamagata Unemori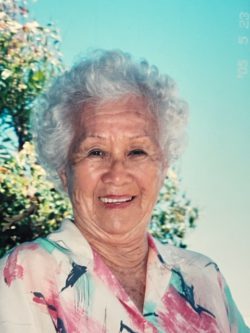 Nancy Shizuko Yamagata Unemori of Kaunakakai, Molokai was born on August 29, 1924 in Kapaa, Kauai, the eldest of 7 children. She passed peacefully on June 4, 2023.
She married Hisashi "Fats" Unemori (deceased), and moved to Molokai in 1958. Together they had 5 children. Alison (Warren) Yasuda, Kevin (Lynne) Unemori, Jeffrey Unemori (deceased), Kathleen (Rod) Wong and Scott Unemori (deceased). She also has six grandchildren and seven great grandchildren. She was a member of the Molokai UE club. Nancy supported her husband's activities with the Molokai Lions Club along with many other local programs. As a dancer of Na Kupuna O Moana she made many new friends, traveled to different places and enjoyed her fun performances, never imagining the joy she would experience being on stage! We will always remember her for her kindness and unconditional love for all.
A memorial service was held on July 24, 2023 at Grace Episcopal Church at Hoolehua Molokai. She joins her husband at the National Memorial Cemetery of the Pacific at Punchbowl.