Nainoa Kahale Receives Kaimana Award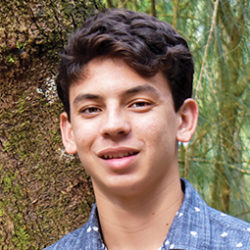 Molokai High student athlete and graduating senior Nainoa Kahale was one of 16 chosen statewide to receive HMSA's Kaimana Award. The HMSA Kaimana Awards and Scholarship Program honors high school seniors and their schools for excellence in academics, athletics, community service, healthy activities and sportsmanship. Each awardee receives up to $5,000 that can be used to pay for college tuition, books, computers, and room and board.
Kahale was a year-round athlete all four years of high school. He was on the volleyball, cross country, football and basketball teams, and served as basketball senior captain. Along with competing, Kahale took AP and honor courses, as well as a college class, all while maintaining a 3.857 GPA. He graduated from Molokai High School with a Career and Technical Education (CTE) honors diploma. Community service was important to Kahale and he led projects through the LEO Club, Molokai Earth Preservation Organization Club and Young Life Ministries. He helped veterans, participated in wharf cleanups, and supervised youth church camps. In addition to the Kaimana Award, Kahale received the Whitman Achievement Scholarship for his high school academic performance and the Lomen Douglas Scholarship. He plans to attend Whitman College in Washington and study computer science or engineering.
"My wife Nichol and I were privileged to attend the awards banquet with him this past Saturday," said father Mike Kahale. "We are so proud of him and all of his accomplishments."