Na Pu'uwai Fitness Center Challenge Winners
Na Pu`uwai Fitness Center News Release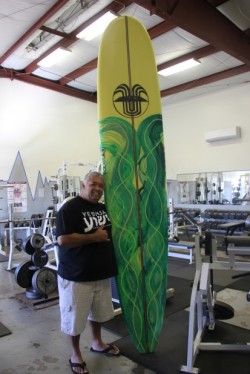 Na Pu'uwai has brought its latest eight-week challenge to a close on Oct. 31, and results are in!  This challenge produced 83 participants, including both men and women.  We had a grand prize winner as well as first through fifth place winners for men and women, ranging from $25 to $100 in gift certificates,  a month free membership at the fitness center, and cotton fitness center T-shirts.  The grand prize was a custom long board with Na Pu`uwai's logo made by Bouvey Bradley from Makaha, Oahu.
Harley Tancayo sneaked in from the sidelines and took it home for the win.  He was the overall grand prize winner.  With humbleness, Harley was astonished and excited that his hard work, his endeavors, and his commitment paid off at the end.
Harley reported that the eight-week challenge influenced him to "eat better, no rice and no high fructose corn syrup.  Now I feel much better, not as much 'owies' in the mornings."  He started off on the elliptical at level 1 and now he is exercising at a level 4.  When asked why he thinks he won, Harley replied, "Because of my mindset, I went at it mostly for the love of my family and the love of God.  Love was my motivation, and should be the motivation for everything."  Harley and his wife, Janelle, also go walking frequently, picking up nails, screws and trash on the side of the road.
Harley plans to use his long board as soon as he has time, and will be entering the next upcoming eight-week health challenge in January, 2014.  His tip to participants in future challenges is,  "When you feel like not going to the gym and working out, that's the time you should really go.  Just like church, when you no like go, that's when you should, because there is something special [in the sermon] for you."
Na Pu'uwai Fitness Center has tentatively scheduled its next Fitness Challenge for January 2014.  The value of prizes depends on how many participants register for the challenge.  If you have any questions or need information about Na Pu'uwai Fitness Challenges, please call 553-5848.