Musical Love
CD Review: Keola Beamer/Raiatea
Community Contributed
It was meant to be: a master of mele and kiho`alu and the songbird of Molokai. Keola's voice is at the right place for the leo of Hawaii nei. In his hands, he has held love, guitars, family, friends, ancestors and now, cradled gently, the songbird of Molokai, Raiatea.
With their roots of Hawaiian music well established, they bring us this fine piece of music mastery, of love, kindness and hurt-less music. The path is clear: This is the way Hawaii should be represented to all. The heavenly light shines on both. The waters are flowing again. May we all have a drink? A taste of musical love.
We could not stop putting out the kahea about this work. The mana is here, folks, the mana is here. Generations to come will have this music to enjoy when they are away from Hawaii, family and friends. Peace is available here — you and this music will endure.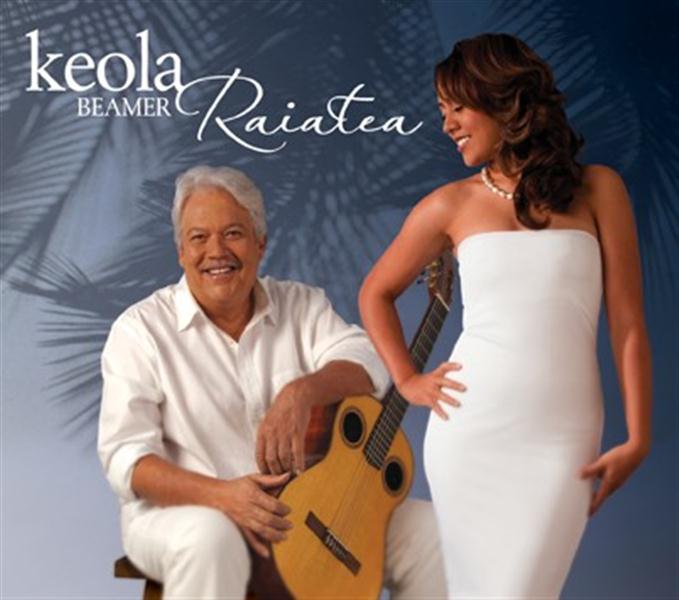 Let's go to the tracks. The first is "Ina" (Imagine), originally by John Lennon. This version features beautiful chanting – Lennon must be loving this piece. I hope Yoko hears it. Next is "Where I Hold You." Keola's guitar is signature and here comes Molokai's Raiatea, so sweet. "Our Time for Letting Go" is about memories of lost love, family, friends and the change we all go through moving on. It's very beautiful. Next is "You Somebody." Raiatea, great job on this. We hope the world charts will highly consider this mele for awards. No, Raiatea, YOU somebody.
Next is "Hilo Hanakahi." Our favorite rendition of this song was by Sunday Manoa, with Robert and Roland Cazimero and Peter Moon, for 30 years plus. Move on, big dogs — the master and the songbird have arrived. On "I Kilohi Aku Au," Raiatea leads all. Molokai, please stand up and be counted. She brings peace to our hearts and Kupuna smile with tears of love.
On the next track, "Ka Makani Ka'ili Aloha (Love Snatched by the Wind)," Raiatea brings back hints of the great Emma Veary. "Ke Kulu o ke Au" is a haunting nose flute number and Keola brings up the mele as though he was telling a secret for your ears only. "Ke Ali`i hulu mamo" features a nose flute intro with guitar and pahu, and Raiatea delivers the goods here.
The album ends with "Days of My Youth," which is a Kui Lee masterpiece delivered now in Keola's life and ours as well, and finally "Kimo Hula". Again, Raiatea is haunting. Job well done. Simplicity is catchy, and what an ending to this great project. Our take: the Grammys are yours. Please bring it home to us here on Molokai and Hawaii nei. This is one for the top 10 CD rack at home.
Finally, a big send-off to my dear brother, Woody DeMello, whom I look up to. I love you so much. May you guide us from heaven.
And to my personal friend and colleague, Kris Hinsvark, who I had the pleasure of paddling with off the shores of Maui for five years who stayed at my side throughout my Maui recordings and Old Style series. You will be surely missed. I love you also.
Till next time, Ke Akua Pu A Hui Hou Kakou.