The Music Man
Community Contributed
By Paula (Mondoy) Scott
As long as anyone can remember, John J. Mondoy ('Johnny') has been singing, playing the ukelele, guitar, or any instrument that that is in front of him for all of his life. He has a natural 'ear' for music.
Although in Hawaii, this is not necessarily something unusual-knowing someone that loves to sing and play music. It is indeed a pretty commonplace occurrence. But what really sets him apart from others is how he imparts this love to others. He has taught so many of Molokai's young and old how to play the ukulele. As one of his many former students, Joyce Mina, says, "Didn't he teach ALL of us how to play the ukulele?" And of course, all the oldie but goodie songs.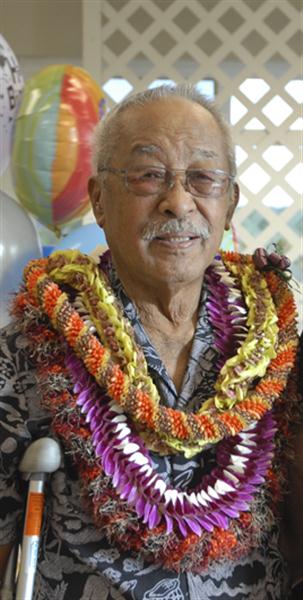 For many years, he has taught countless students at the Molokai Community Center how to play the uke. For free. This level of community service has had many positive and far reaching effects. Also with this free class one would often get one of his song books. Complete with the words and chords to all of those songs. Mr. Mondoy is proud to say that some of his students went on to play music professionally.
He also provided music to his church parish for over 55 years. His commitment to share music with others has no boundaries. He has worked with other church communities over the years by way of teaching and even playing for them when they did not have enough musicians.
The Episcopal Church in Hoolehua is an example of the extent of Mr. Mondoy's sense of community service and generosity. Over the years, he has given them music stands and was instrumental in assisting them in developing their music program.
What many people may not know as well is that whenever he played for funerals, he has never charged anyone for this service. Mr. Mondoy can only hope that others follow his example of reaching out to their community by way of music and music ministry.
On January 31st, 2010, John J. Mondoy celebrated his 80th birthday with family and friends. May he continue for many more years to celebrate and share his love of music with all that is around him!