Mule Tour Offers Options
While the Kalaupapa Pali Trail is currently closed due to a missing bridge, there are still options to visit the beautiful settlement. Molokai Mule Ride offers their options below.
Due to the heavy rains and a changing water flow from the top, the first bridge at the top of the trail was unearthed and damaged, causing disruption in our service of taking mules and hikers on the trail. We are working together with the National Park Service to assess the damage and to create a plan to put the bridge back into full use for travelling with safety.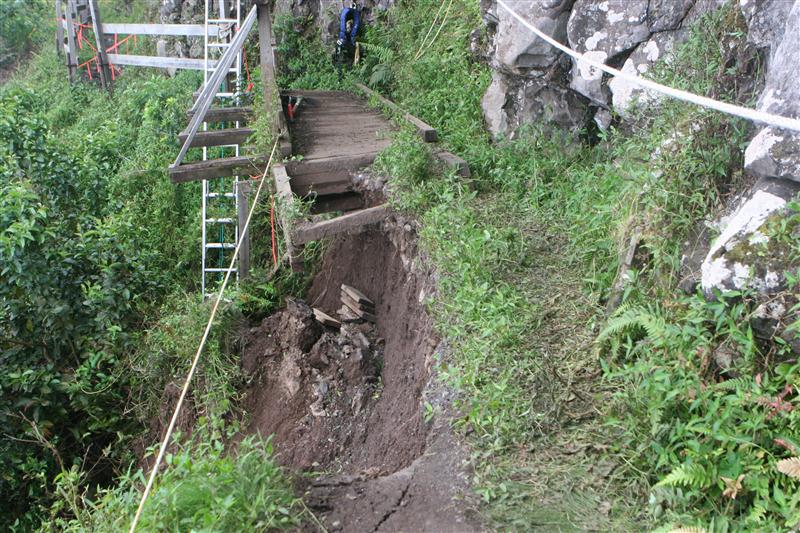 We realize that this situation caused by Mother Nature has caused much pain in that many of our tour patrons have come from all over the world to participate in this wonderful experience. We will do everything that we can to take action in moving forward in having the bridge repaired.
In the meantime, we have "fly down" options from the Molokai Airport and the Honolulu Airport. These are chartered flights which includes round trip air and the Historical Park Tour. Both the Molokai and Honolulu to Kalaupapa Tour Packages will have lunches included.
Molokai to Kalaupapa – Tour: $229 all inclusive; Honolulu to Kalaupapa – Tour: $398 all inclusive. Please note: Tours will not run every day, it is based on a minimum of five that is necessary to make it work. If you book, we will put your name on the list and try to create a minimum of five with others calling in. Again, we thank you very much for your patience and aloha.
Brothers Roy, Buzzy and the Trail Guides of the Molokai Mule Ride.